Think navigation is a dead-end with no revenues? Think again
Date:
Thursday June 9, 2016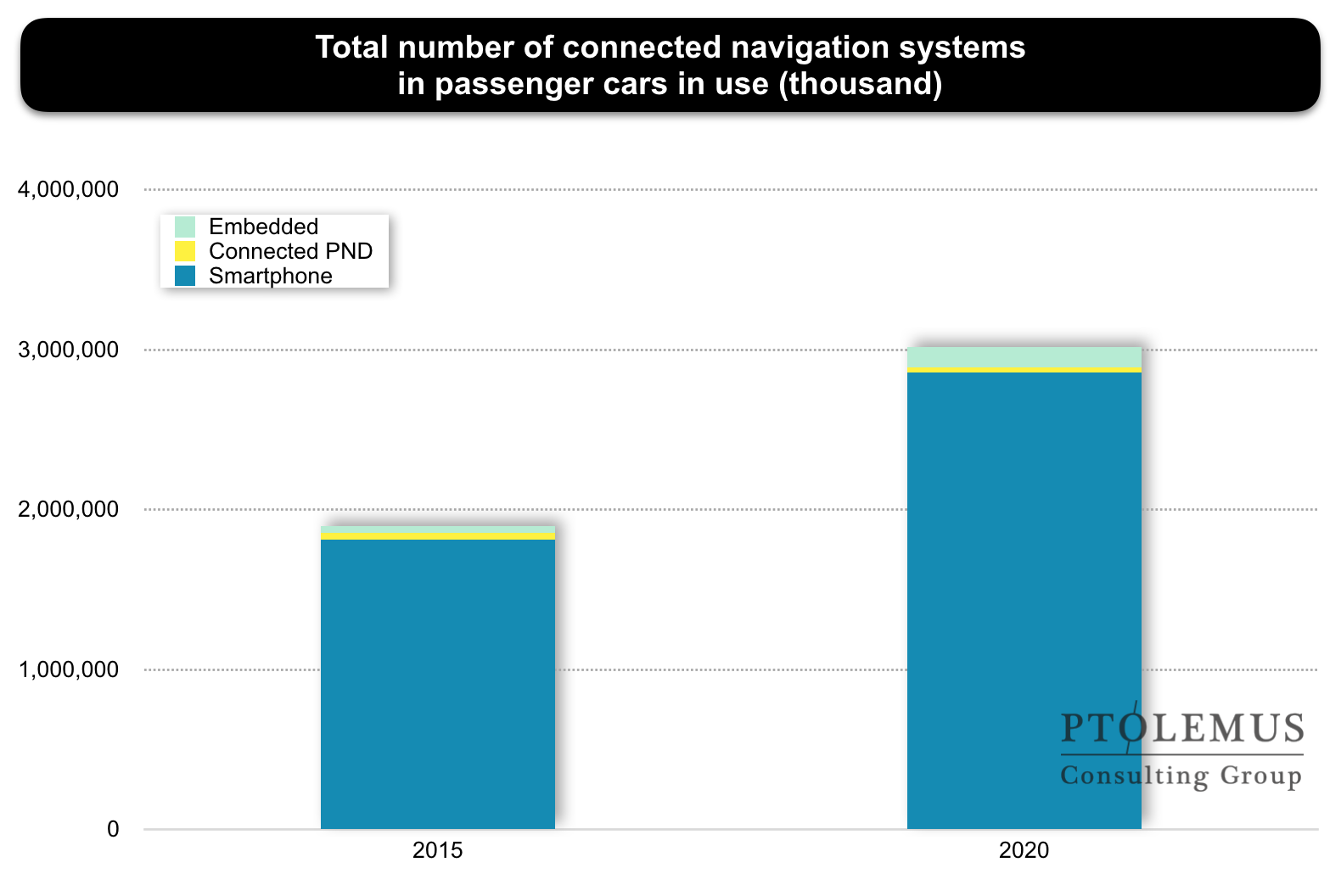 Connected Navigation volume are growing but so are the revenues
Consumer navigation as a standalone industry has virtually disappeared. It has now been reduced to a feature on smartphones. A feature that is used by nearly 2 billion people and is set to grow to more than 3 billion by 2020.
True, Google Maps represents the vast majority of the volume, however, navigation providers have never been so busy innovating and the connected navigation market value is growing, not shrinking. According to the Connected Mobility Forecast, passenger car connected navigation global revenues will reach $32 billion by 2020 from $21 billion today.
So where is the growth coming from? Here are a few pointers:
 Investment in embedded navigation has never stopped. OEMs are acutely aware of the necessity to control map provision and distribution because in the short term it will be essential to the delivery of all mobility services.
Car rental, sharing, pooling, leasing, UBI or FMS are based on connectivity and maps. All the new features provided by connected navigation are central to them. Navmii for example, provides navigation and traffic services to enhance vehicle logistics handling.
Navigation is also at the heart of the driver interface and, one after another, OEMs have announced their ability or plans to make the cockpit navigation functions upgradable over the air. Tesla is doing it today, PSA will start in 2018.
The aftermarket and smartphone based offering is also upgrading fast.
Waze or Navmii, to take just two, both build their own maps, enlist their own users and produce their own data to contribute to that map in order to warn the community of any disruptions.
This enables them to generate high-quality traffic and update the map data constantly. Mapmii is free to the driver, they make money from the data collected (traffic and mapping) and white-labelling their technologies to power other devices and apps. Waze says it doesn't sell any data collected from its users.
Map and navigation players have woken up to behaviour analytics
Navmii already provides a driver performance scoring feedback to its registered users. Individual driver scores are private and can only be accessed, seen or shared by the user themselves. The smartphone app also aggregates mobility data to improve the functionality and accuracy of the Navmii app.
Behavioural analytics is the basis of motor insurance innovation. It is based on tracking the vehicle but individual driver data needs to be compared with other drivers on the same route as well as utilize context information on the journey.
Hence, companies such as HERE have built large databases of data points precisely assigned to different roadways, enabling them to understand how the broader population drives on these roads. This data is then used to create comparative analytics models and a 'driver score' for each roadway section.
Navigation providers are also best placed to examine what traffic conditions were like on the road at a particular point in time. This comparison with actual traffic conditions can be used to understand the context in which a driver was traveling.
Next stop: ADAS and Autonomous Vehicles (AV)
In the longer term, navigation will become an essential part of the driver assistance process leading to high vehicle autonomy.
The move towards AV guidance was one of the drivers behind the HERE acquisition by German car makers and it most probably a factor in the recent deal between TomTom and Volvo. With AVs, navigation will partly transform into automated routing and gain significantly more value.
Mobile navigation players also have a role to play here. Smartphone based driving assistance can use the phone camera to understand the distance to the vehicle in front. Initial steps have been taken by the likes of Mobileye and Navmii in that direction. The latter is said to be releasing a new version of its app called Navmii AI, which uses computer vision systems to provide ADAS features helping the driver to identify potential dangers ahead.
Connected navigation may have lost the front seat in people's mind but its value has never been more central to the mobility market. Download the abstract of the Connected Mobility Global Forecast for a quantitative analysis of 14 markets which are changing the way we move.