PTOLEMUS ranks SkedGO, Moovit and Fluidtime as the most advanced mobility platform suppliers
Date:
Friday March 15, 2019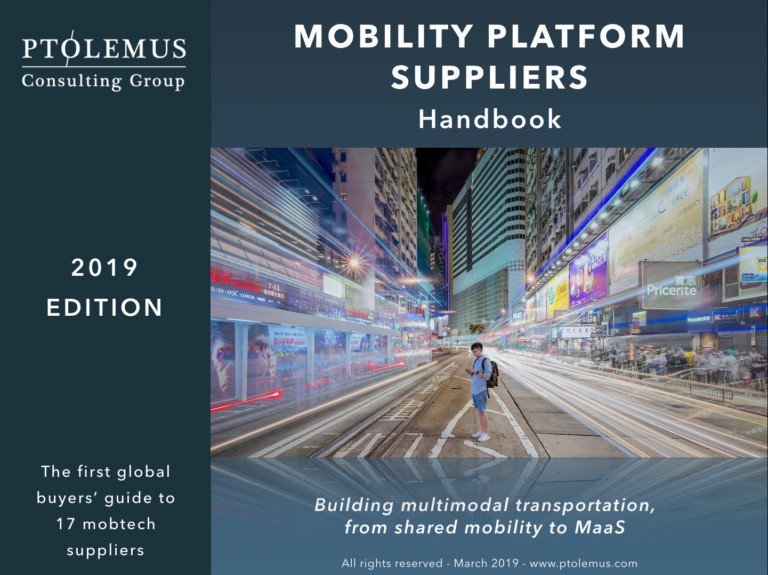 PTOLEMUS Consulting Group has announced the winners of its ranking of the top advanced mobility platform suppliers in North America, Europe, the Middle East and Australia.
The ranking rewards suppliers that offer scalable, integrated solutions to mobility and transport providers, categorised by.
Transport platform providers (TPPs): Companies that offer a single operator solution (single or multimode)
Mobility platform providers (MPPs): Companies that can aggregate multiple operators and modes
The headline winner for the TPP category is INVERS and for the MPP category is SkedGo
Other highly ranked TTPs include companies notable for their pioneering work in providing platforms for car and ride sharing companies: Ridecell and Vulog.
Among the MPPs profiled, Moovit and Fluidtime were also ranked highly. What characterises the winning companies in this category is the variety of the services offered and the companies' backgrounds.
Most of these companies have a growing customer base and geographical reach, while most are also headquartered in Europe.
The companies are among 17 suppliers analysed and ranked in the Mobility Suppliers Handbook, which builds on PTOLEMUS' constant monitoring of the mobility ecosystem.
Alongside the supplier profiles, the handbook also details the ecosystem and value chain for the evolving mobility-as-a-service (MaaS) segment, as well as the integration levels required to offer a complete MaaS solution.
Factors assessed for the supplier ranking included:
The company's experience and length of time in the market,
The scalability and geographical reach of their solution,
In the case of MPPs, the number of operators they have integrated into their solution.
A more detailed description of the ranking methodology together with the full ranking results are available to download here: https://www.ptolemus.com/augmented-mobility-2030-global-study/mobility-suppliers-handbook/
About PTOLEMUS Consulting Group
PTOLEMUS is the first strategy consulting & research firm entirely focused on connected & autonomous mobility and the Internet of Things. It assists leading technology players, automotive OEMs, insurers and service providers in defining & deploying their strategies.