Mobility Platform Suppliers Handbook
The first buyer's guide to Mobility-as-a-Service platform suppliers
The only complete appraisal of MaaS software suppliers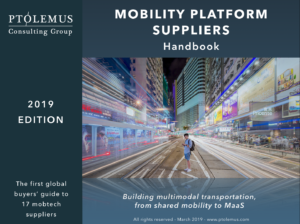 The giant's battle for the provision of MaaS has started. Within a week, we learned that:
BMW and Daimler will combine their mobility operations and Moovel will become ReachNow,
Citymapper just announced Pass, an embryo MaaS service in London,
Narendra Modi, Indian's Prime Minister, launched the National Common Mobility Card, a nationwide MaaS scheme.
For those starting on the path to provide multimodal mobility, the current supply landscape can appear confusing. 
We have leveraged our 10 years of experience in connected mobility, including over 130 consulting assignments, to lay out the ecosystem for MaaS, including its key stakeholders, trends and technologies.
We have also mapped the value chain and identified the building blocks required to build a complete MaaS solution.
Finally, we have appraised 17 key suppliers of mobility platforms, identified key clients and analysed case studies of their deployments.
All mobility stakeholders will benefit:

Cities: what mobility supply strategy and model could be deployed and what model and providers are the best fit


Transport / mobility operators: what suppliers are the most adequate to move to multimodal mobility

Investors: have an in-depth view on how the big players of the market are evolving and what their expanding strategies are

Technology providers: how your competitors are evolving and what your position in the market really is

The handbook brings much-needed clarity

on the mobtech supply chain and competition:

150 pages of analysis of the complex ecosystem powering mobility-as-a-service.

17 platform suppliers assessed including company strategy, market offering and place in the value chain

High level architecture of the shared mobility platforms

Independent ranking of the top technology providers in the MaaS market
Mobtech suppliers analysed
9 Transport Platform Providers:
Bestmile
INVERS
Ecomobix
Launch Mobility
Omoove (Octo Telematics)
Padam
Ridecell
Shotl
Vulog
8 Mobility Platform Providers:
A-to-Be (Brisa)
Cubic
Fluidtime (Kapsch)
Moovel / ReachNow (BMW and Daimler)
Moovit
Optimile
Siemens
SkedGo
Fill in the form below to download the free abstract
or to buy the study by credit card online
To order the study and receive an invoice, contact mobtech@ptolemus.com