Road Usage Charging United States Report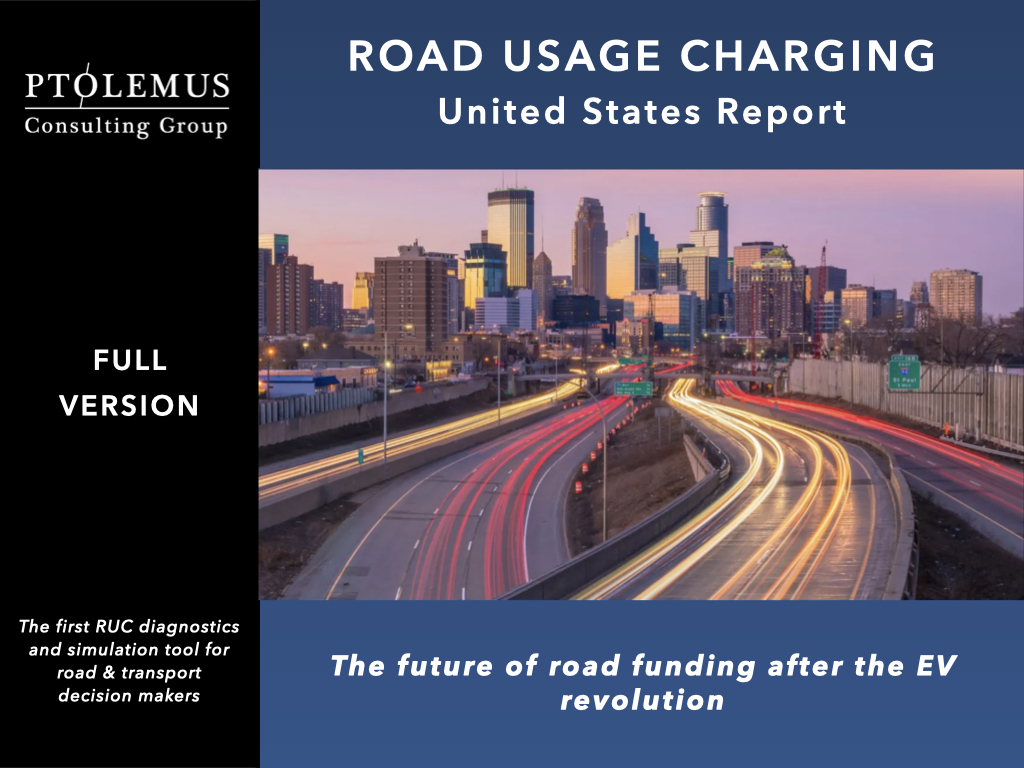 Road Usage Charging United States Report
3995€
How will the US fund its roads in the next 10 years?
The motor fuel tax is no longer an effective road funding model. Existing infrastructure financing gaps can only widen with the rise of electric vehicles (EVs). In 2022, battery EV sales reached 5.6% of new car sales. By 2030, they are expected to make up more than 50% of new car sales.
For each EV sold, the government (state & federal) will lose $3,000 in gas tax revenues over the vehicle's life. Hitting its 2030 EV sales target implies that the government will lose over $20 billion in revenues in that year alone!
The solution, RUC, already exists.
RUC has been successfully deployed nationwide in 9 countries, from Belgium and Bulgaria to Germany and Switzerland. They already have implemented an end-to-end interoperability framework, allowing vehicles to cross the whole of Europe using a single device and paying a single bill.
In the US, after 15 years of efforts, the evolution towards mileage-based user fees is now accelerating.
In a few months, major developments occurred:
New legislation enabling road usage fees was enacted: Louisiana signed into law Act 578 enabling the state to begin collected road usage fees from electric and hybrid vehicles
A third permanent RUC program was launched: Virginia launched a voluntary RUC program that already has over 5,000 participants
A tender was completed for RUC account managers: Oregon completed RUC tenders for a new ODOT Account Manager and for new Commercial Account Managers
A RFP for a RUC pilot was solicited: Oklahoma launched a tender for RUC project manager services
In the state of Washington, state House Bill 1832 is looking to introduce a new RUC program that would charge drivers 2.5 cents per mile

A national RUC pilot is under preparation
RUC has immense potential but successful implementation requires a deep understanding of the challenges and a strategy to tackle them
This is exactly why PTOLEMUS has developed the RUC USA Report to support understanding and design of RUC programmes at a moment when they are critically needed.
One of our clients, Matt Wright, CEO of NextMove by Cintra, comments:
« PTOLEMUS' report is a thorough and insightful analysis of RUC in the US. It has proved to be a valuable component in our assessment of the market and helped to inform our strategic approach. »
The RUC USA Report is a 330-page in-depth analysis of the current and future road financing in the US.
As the first RUC diagnostics and simulation tool for road & transport decision makers, it includes:
An examination of the economic, financial, political and technological context behind RUC
A detailed assessment of RUC vs. other major funding solutions across 9 key dimensions
The status of road funding examined in numerous states including 4 in-depth profiles of US States that are at the forefront of RUC initiatives
A comparison of RUC in the US and distance-based charging in Europe that identifies 5 key lessons and insights that the US can take away from the European experience
An evaluation of the different Mileage Recording Options (MROs: OBD dongle, odometer photo, smartphone, connected vehicle) and their impact on the RUC case
An appraisal of the role of Account Managers
The level of urgency of RUC for each of the 50 US States
Models for the US and Colorado covering:

Motor fuel tax revenues forecast
RUC fees & revenues scenario
RUC costs scenario

The 2022-2040 Excel forecast model has been developed bottom up

With inputs from over 20 reputable sources and PTOLEMUS' own automotive and EV forecasts
To easily store and simulate hundreds of unique vehicle, travel, and pricing scenarios as defined by the user
Additional forecasts, scenarios, and slides on the other 49 states (+DC) can also be purchased*

Quantitative and qualitative analysis on which states would benefit the most from a RUC scheme
To download the free 54-page RUC USA Report abstract, fill in the form below