Commercial Fleet Telematics Global Study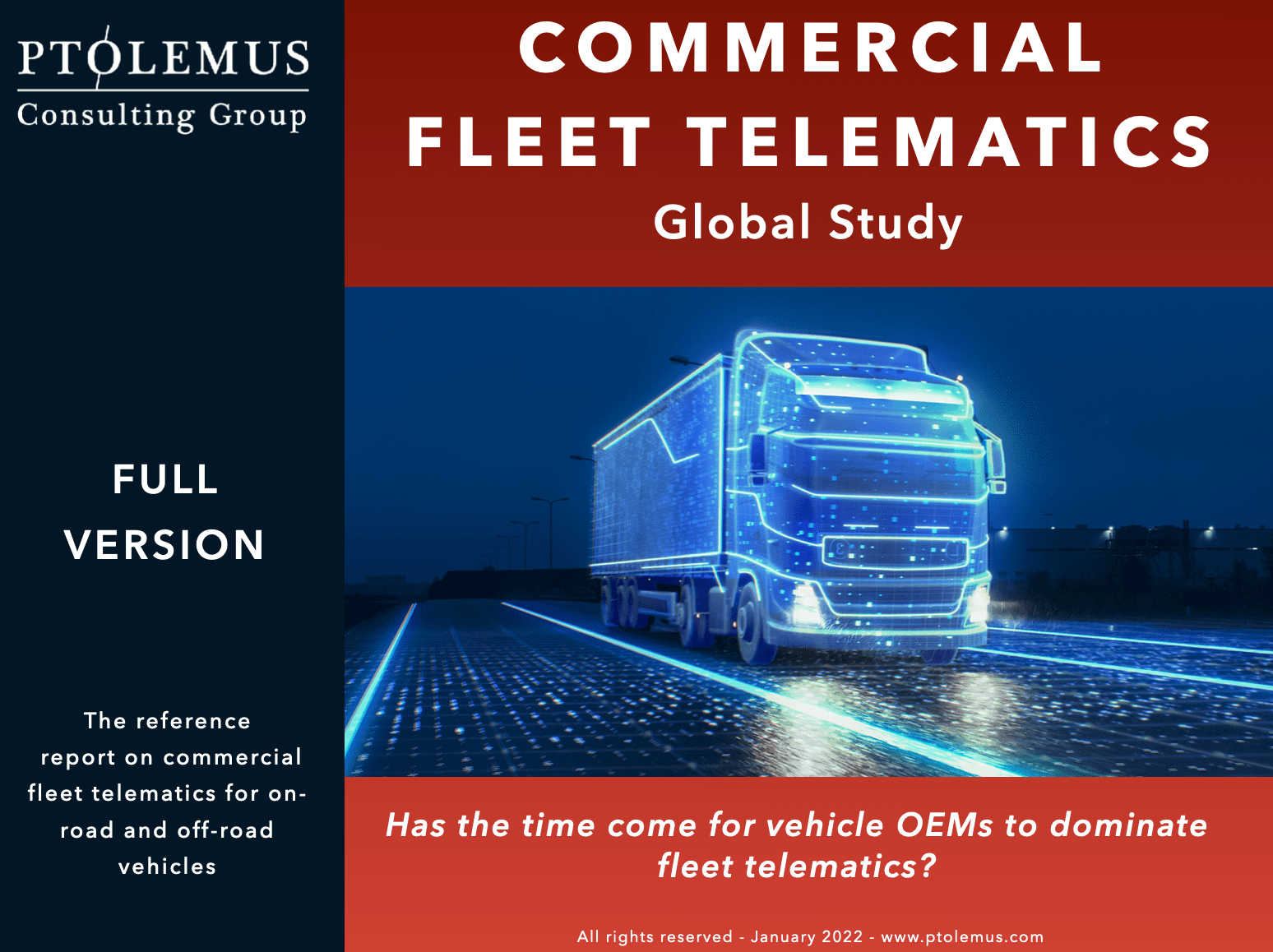 Commercial Fleet Telematics Global Study
5495€
Are OEMs on the path to overtake TSPs in the fleet telematics market?
Aftermarket Telematics Service Providers (TSPs) currently dominate the commercial fleet telematics market. This is about to change, as PTOLEMUS Consulting Group has found in its new report, the Commercial Fleet Telematics Global Study.
Indeed, the majority of OEMs have adopted the strategy of offering free, but often time-limited, telematics solutions with new vehicle or machinery purchases, with Volvo being a good example in this regard.
PTOLEMUS forecasts that 83% of all new on- and off-road vehicles will have embedded telematics by 2024, and that this shift in connectivity will strengthen OEMs´ positioning as they will become a major source of vehicle data for TSPs. In fact , we expect OEMs´ share of on-road telematics subscriptions will grow from 11% in 2020 to 26% in 2030. This will leave OEMs near parity with TSPs.
OEMs integrations with TSPs are on the rise (i.e. Navistar with Geotab, Samsara and Cloudera. Daimler's fully "open" Virtual Vehicle™ and John Deere with Geotab, Samsara, Trimble and Verizon), meaning that OEM's are in a  position to largely supplant TSPs' hardware... 
The study answers the following key strategic questions
What to expect from the Commercial Fleet Telematics Global Study
The 635-page study analyses the strategies, challenges and opportunities for the major players in the fleet telematics market. The report covers 18 key countries and regions across five continents and includes market forecasts to 2030 as well as profiles of 39 TSPs and OEMs. Finally, it shows how telematics can provide a 10% cost reduction in the annual operating costs of commercial vehicles. More details on the study:
The most comprehensive analysis of the global commercial fleet telematics landscape
Total Cost of Ownership (TCO) analysis of vehicles
Gap analysis between OEMs and TSPs strategies through an in-depth assessment of 39 companies (23 TSPs and 16 OEMs)
2020-2030 bottom-up market forecast covering 18 key countries and regions across five continents

Fill in the form below to download the free 91-page abstract

---