BMW CarData: a sign of things to come for all OEMs
Date:
Wednesday November 29, 2017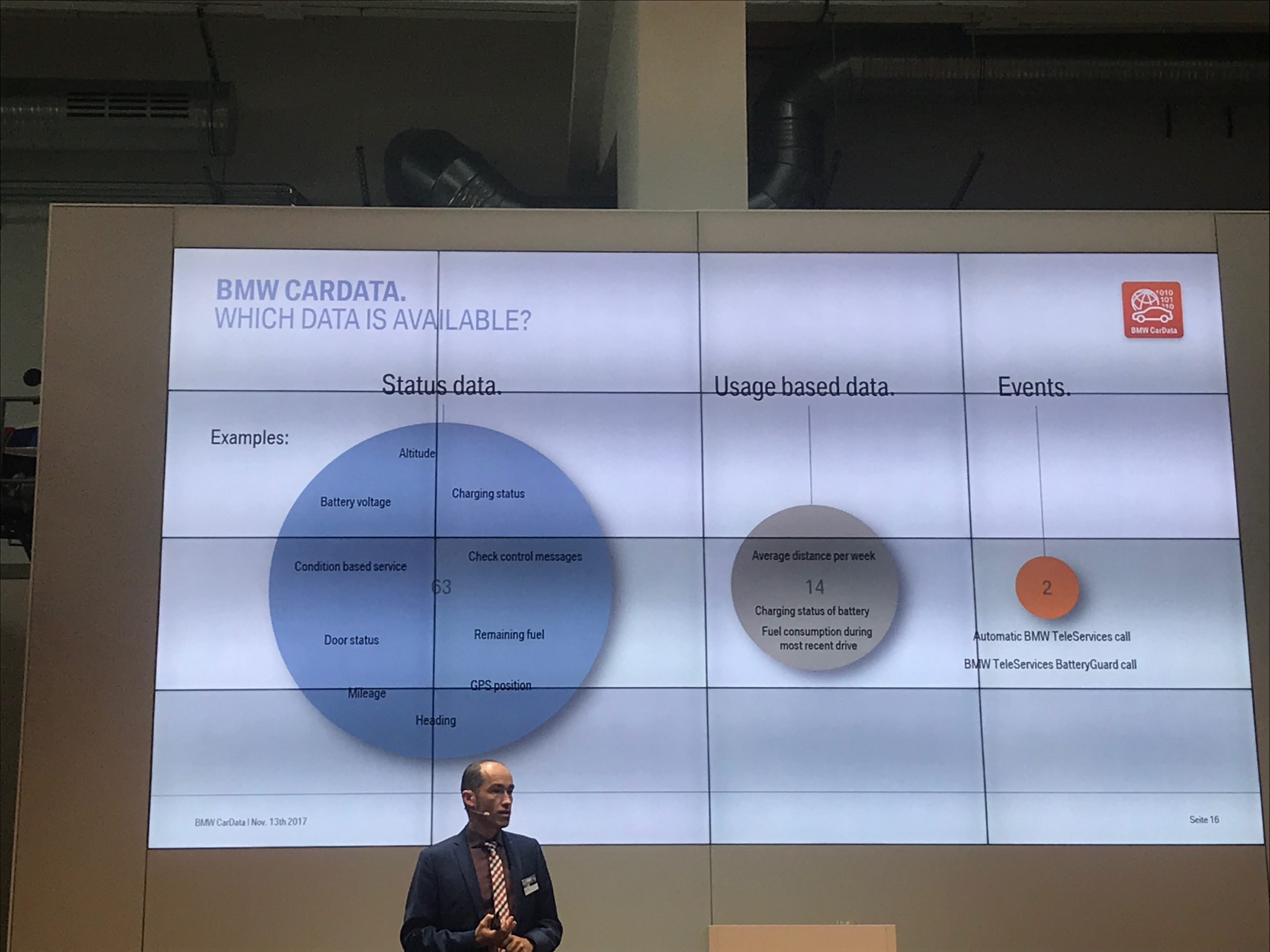 As BMW presented its new CarData platform to insurers, telematics service providers (TSPs) and data analytics companies in Munich last month, it made obvious that data transparency and monetisation in now a hot topic for all OEMs.
BMW has been early in the game of connected cars & services. 8.5 million BMWs are now equipped with permanently active SIM card worldwide.
At the same time, it has launched a car-as-a-service business with DriveNow, and more recently a mobility-as-a-service business, with its ride sharing solution called ReachNow. It is also developing mobility payment services with ParkNow and ChargeNow and has the objective to grow from 30 million customers today to 100 million by 2025.
The manufacturer understood early on the need for building an open platform and an ecosystem of service providers to remain competitive. Many OEMs are still trying to keep control over the vehicle data and develop their own services that do not meet customer expectations. That will need to change. CarData may have been a long term strategic decision, but it is also a response to bring data transparency and access required by the upcoming GDPR.
Today's announcement is the concretisation of this long thought process. CarData is a platform allowing BMW's drivers to access their vehicle data or share them with any 3rd party service providers  registered on the platform.
Fleets will also be able to share the data from their BMW vehicles with the service providers of their choice, but will need to have first a signed agreement from their drivers / customers.
Today, the datasets involved in this first version of the CarData platform include:
Status data: 63 attributes including battery voltage, error messages, maintenance reminders, coolant temperature, fluids level, fuel level, mileage, position, door status, etc.
Usage data: 14 attributes

 

including trip distance, charging status, fuel consumption, etc.
Driving events: 2 attributes, eCall &

 

bCall events
Frequency and latency are still being discussed but the price has been capped by BMW to 5€/month/vehicle depending on datasets required and number of vehicles involved. This business model is clearly competing with aftermarket telematics solution and allows 3rd parties to get rid of the hardware and focus on service delivery.
However, partners like insurers, rental companies, leasers, fleets or repairers will have to deal with the complexity of connecting with different OEMs' platforms and data formats and may loose control over data quality, which might cost them more than an aftermarket device.
Finally, it is interesting to see that BMW is willing to share its vehicle diagnostics data with independent repairers or part resellers and emphasis now more on  the data business rather than on after-sales revenues for its dealer network.