The $58 billion car rental market could become the car sharing market
Date:
Thursday June 2, 2016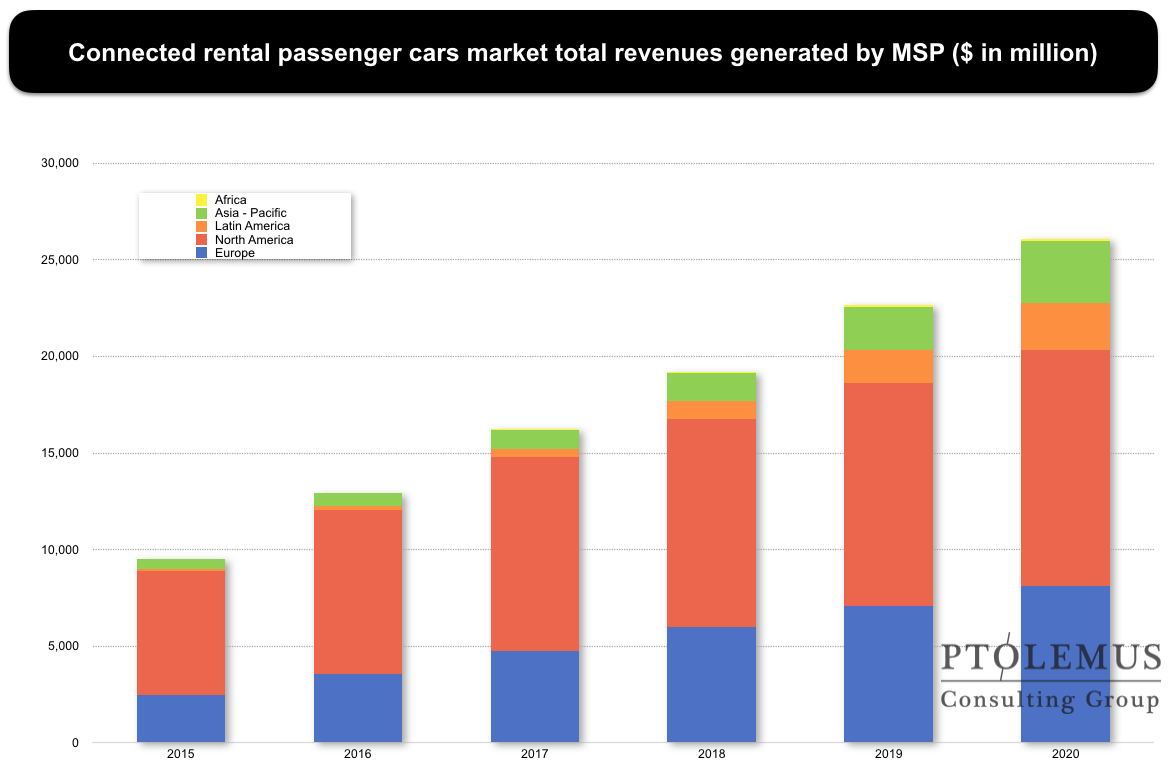 Car rental companies are facing serious threats with car sharing encroaching on their market, dwindling margins, rising insurance costs and the growing menace of Uber, Lyft and other ride hailing apps.
The edge of the rental business rests in their ability to effectively manage their assets. According to our recent Connected Mobility Forecast, car rental companies currently manage more than 6 million cars worldwide.
To stay alive, car rental companies will need to base their strategy on three items:
The competitive acquisition of new cars based on high purchase volumes,
The optimisation of profits from the rental for a period of 12 to 18 months,
The re-selling of the cars at the right moment considering brand, model, mileage and year, when the residual value can be maximised,
Telematics can definitely improve the last 2 pillars.
First, telematics will allow rental companies to monitor each vehicle and charge each customer the best price depending on the distance driven, location, behaviour, time, etc. Indeed the vehicle and driving data will help justify additional customer charges for insurance, refuelling or extra mileage.
It also protects rental companies' vehicles against theft and will impact the insurance premiums they pay, especially for the growing business of luxury car rental.
ZipCar app enables the customer to locate a car, reserve it and open / close it
But the most important improvement from telematics is the opportunity for rental companies to significantly cut cost from their current rental process. Tracking and keyless technologies enable automated car sharing solutions and improve the use of each vehicle by having more short trips, a free floating fleet and larger coverage in cities.
Major rental companies are already moving fast. For example, Avis acquired Zipcar, the second largest car sharing solution, in 2013, Europcar recently acquired Ubeeqo, a car sharing solution provider, and Hertz launched its own on demand car sharing scheme. The world's third largest car sharing scheme, DriveNow, is a joint venture between BMW and rental company Sixt.

Then there is the potential for additional revenue creation
Remote vehicle monitoring offers the opportunity to improve a vehicle's re-sale price. Indeed rental companies will collect and analyse mileage, usage type and health report to optimise the maintenance and re-selling value.
Telematics also enable the up-sell of value added services to customers. We can easily imagine car rental companies offering WiFi hotspot, connected navigation or infotainment services for an extra fee.
As a result, we estimate the share of connected rental passenger cars worldwide to grown from 14% today to 40% in 2020. These vehicles will generate a revenue of more than $25 billion for car rental companies.
That said, car rental growth will hinge on ability to connect and manage assets. If car rental companies don't invest in connected cars, car sharing companies will and 6 million rental cars will soon become shared cars
For more details, analysis and a complete forecast of the whole mobility industry – including car pooling and car sharing- download the Connected Mobility Forecast abstract.