Google set to challenge Uber, Lyft and Didi for control of $30 billion car pooling market
Date:
Tuesday May 24, 2016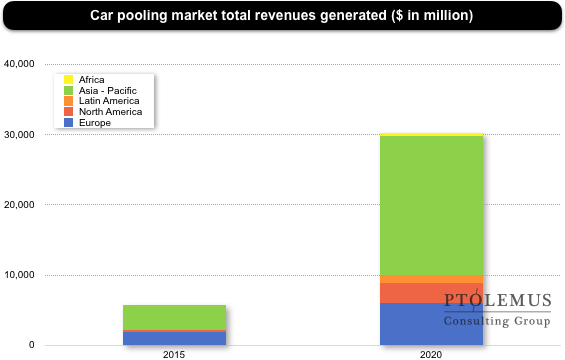 Car pooling expected growth from the Connected Mobility Forecast
The world of connected car pooling just got a little more interesting. Last week, it was announced that the Google-owned navigation app, Waze will enter the car pooling space with a little twist. Waze's proposition: to allow users to share the cost of their daily commute by offering rides to their peers with minimal diversion from their original route.
Days later, Apple announced a $1 billion investment in the dominant ride hailing and car pooling service in China, Didi Chuxing. Since launching in 2012, Didi has grown exponentially and now fulfils over 10 million rides per day. An estimated 30% of these are pooled. In 2014, Uber launched its own car pooling option, Uberpool, which now accounts for over 20% of all Uber rides globally. Lyft has a similar option in numerous US cities, known as Lyft Line.
With so much movement, we decided to quantify and forecast the global car pooling market as part of our Connected Mobility Forecast, you can download the abstract here.
Google's entry into the car pooling space raises questions about how it will cope against the rest and how its unique business model could prove to be its competitive edge.
Uber and Lyft rely on networks of contracted drivers to provide transportation, making money by taking a commission from each fare. The management and development of these fleets is costly and has resulted in numerous legal challenges. Nonetheless, the drivers are central to this model and will always represent costs and risks, at least until the car is able to drive itself.
Central to Google's business model is information technology and data. Google achieves its goals by growing the Waze user-base. In Google's model, drivers don't need to share their earnings because Google is not interested in making a commission. Google's prize is your driving data.
A larger user base for Waze increases the value proposition for its advertising business. Driving data can be monetised in several ways by Google and it can also help them to create a network of sensors that will communicate with its future autonomous vehicles. Waze's platform also offers advanced features like real-time traffic data and route planning, which can deliver a better and more efficient car pooling experience.
The cost per ride for the customer will also be significantly lower relative to ride hailing services such as Didi, Uber and Lyft as the passenger and driver are sharing the journey and the cost. The latter is not providing a bespoke service for the former. Since this follows the sharing economy model, Google is effectively delivering car pooling services at zero cost.
Even take a company like BlaBlaCar, which will soon develop its own connected service, facilitating on-demand, as well as shorter distance car pooling. While it will certainly add to its existing appeal, BlaBlaCar, as well as Uber and Lyft, will always need to charge a commission, increasing the price of the service. Google is betting that its low priced, highly efficient platform will bring the critical mass to compete with Didi, Uber and Lyft.
One thing is certain: the newly demonstrated interest of tech giants like Google and Apple in the car pooling space means that competition is going to drive down prices. Only the most streamlined business models will remain competitive, which means Uber, Lyft and BlaBlaCar will have to evolve.
For more details, analysis and a complete forecast of the whole mobility industry – including car pooling and car sharing- download the Connected Mobility Forecast abstract.