Can In-vehicle Wi-Fi hotspots become a connected car USP?
Date:
Wednesday July 6, 2016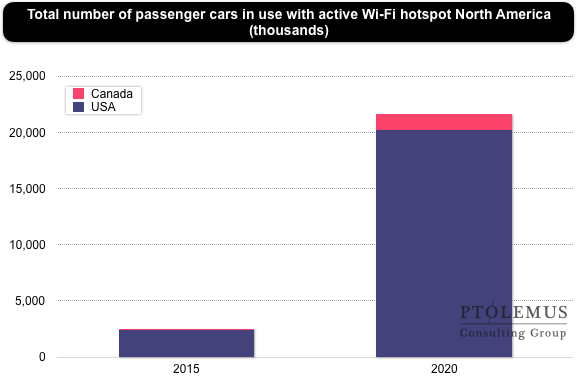 In-vehicle Wi-Fi hotspots were first introduced as an optional extra by car manufacturers such as BMW in Europe and General Motors (GM) in North America. However, due to the high price point of OEM-fitted solutions and mobile data, market adoption rates have remained low for some time.
Today, several aftermarket companies are offering connected car solutions direct to the consumer, which include in-vehicle Wi-Fi. In the US for instance, Zubie and Vinli have included this feature in a move designed to enhance the use cases of their products.
Indeed, their b2c offering is entered around a connected car app platforms aiming to offer drivers a variety of connected services. These include roadside assistance, usage-based insurance and remote vehicle diagnostics. So adding a Wi-Fi hotspot into the array of connected car services then makes sense since the provision of the other services often requires embedded connectivity.
As depicted in our Connected Mobility Global Forecast, the total number of passenger cars in use with an active Wi-Fi hotspot is expected to exceed 20 million by 2020.
Based on the products we have seen on the market today, the key benefits of in-vehicle Wi-Fi hotspots appear to be:
Connecting internet ready devices without mobile broadband capability such as tablets or laptops,

Providing a data plan separated from the smartphone mobile plan,

OEM solutions, specifically, can result in an increased quality of service compared to aftermarket and smartphone-enabled hotspots by leveraging antenna built in to the car.
To a degree, these benefits can be considered as differentiators between smartphone enabled Wi-Fi, particularly in the North American market where the cost of mobile data is much higher and network coverage for mobile data remains a key challenge.
In Europe however, the case for in-vehicle Wi-Fi hotspots in the aftermarket will be harder to make. The OEM's offering also remains less common and more expensive than in North America.
In the aftermarket, Mobile Network Operators (MNOs) like Orange in France or EE in the UK have been among the first to push products (relying on a cigarette-lighter adaptor from Huawei) in an attempt to generate additional revenue streams.
With a value proposition similar to what is currently offered in   the US, Swedish MNO Telia announced the launch of its Telia Sense connected car product for 2016. The 4G LTE Wi-Fi hotspot is at the centre of the proposition, which will then be completed by other services progressively.
But with "unlimited" data plans for mobiles becoming the norm, and price points ranging from €15 to €40 per month, it is hard to see how aftermarket solutions will reach mass market adoption in Europe. Smartphone penetration already exceeds 70% in Europe and most smartphones have built-in hotspot capabilities. In addition, roaming charges within the European Union will be abolished from 15th June 2017, meaning that consumers will be able to use their own data plans in any of the other 27 Member States.
For the reasons mentioned above, smartphone-enabled hotspots will be a good-enough solution to cover the majority of use cases, and willingness to pay for a Wi-Fi hotspot service is likely to remain low across Europe.
In-vehicle Wi-Fi hotspots are a nice-to-have option that can help companies in the mobility eco-system monetise their connected car offering, but should not be considered as a key differentiating feature by itself.
For more details, analysis and a complete forecast of the whole mobility industry – including Wi-Fi hotspots, Usage-based Insurance (UBI), or Remote diagnostics, download the Connected Mobility Forecast abstract.