Fleet Insurance Telematics Global Study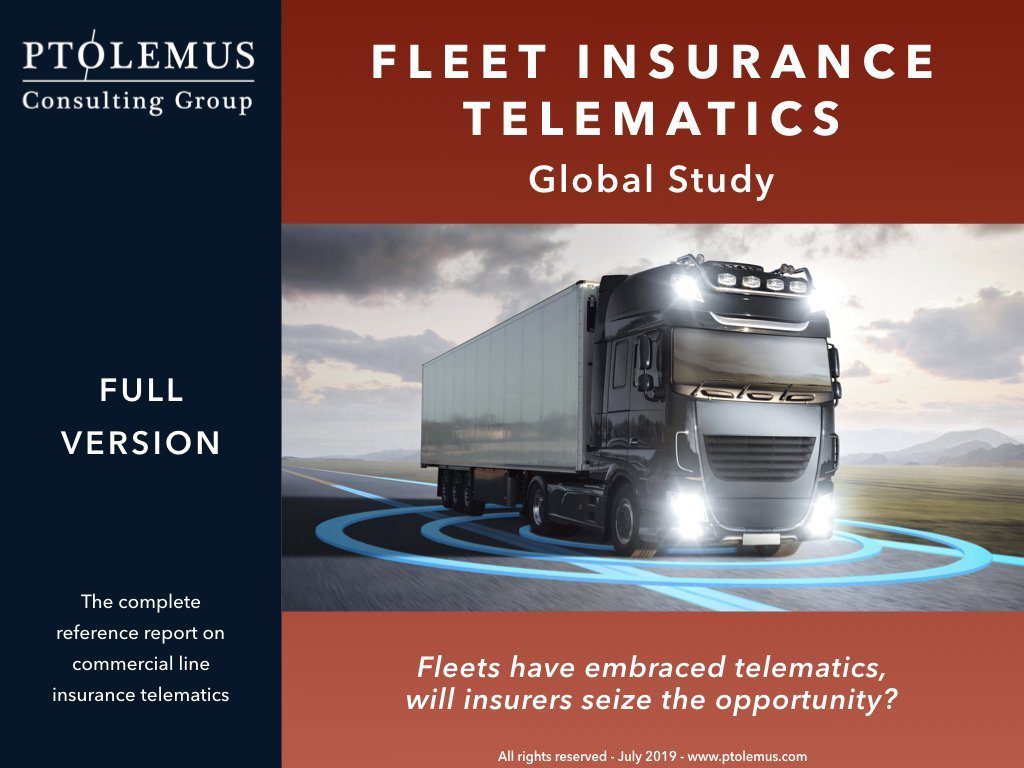 Fleet Insurance Telematics Global Study
1995€
The first in-depth analysis of fleet insurance telematics for the commercial line of motor vehicles

25 million vehicles are equipped with usage-based insurance (UBI) solutions today. But less than 1% of these policies are offered to fleet vehicles!

However, there is a renewed sense of optimism in the industry, driven by:
New regulatory mandates including ELDs, eCall and smart tachographs 
New players entering, e.g. Progressive Insurance, which co-created the consumer UBI market
New solutions such as dash cameras, mobile apps and OEM-embedded telematics systems
A fall in the cost of telematics data, driven by fast decreasing technology costs
The profusion of aftermarket fleet telematics systems

 
In addition, growing claims losses and increasing acceptance of telematics by employees are creating a new level playing field for insurance carriers globally.  
Of course the market still faces challenges from both a technological and a stakeholder perspective. Fleet data standards are lacking and economic models are still being defined, but key players are coming together to try to make it work.
High claims, mature technologies and autonomous vehicles still not ready make the commercial line insurance market ripe for disruption. We believe it is time to re-evaluate the opportunity telematics data offers to monitor and reduce fleet risks. Before other stakeholders, notably vehicle manufacturers, step in to do so.
PTOLEMUS is releasing this report to help stakeholders determine the best go-to-market strategy for implementing a connected fleet insurance solution. As in the consumer UBI market, it is not about launching a programme but launching it right! 
Based on our fundamental market analysis, we expect commercial insurance telematics premiums to reach €20 billion by 2030.
What do we cover?
Nearly 500 pages of analysis on fleet insurance telematics:
Evaluation of the connected fleet insurance value chain and 9 key stakeholder groups
An analysis of over 45 programmes worldwide, including 8 in-depth case studies giving information on target market, value proposition, and devices used
Profiles of 10 key telematics service providers (TSPs) including supported vehicles and devices, scoring capacity, and core offering
Strategic recommendations to insurance providers including best practices, delivery models and services provision
*Plus* The option to add a bottom-up forecast of the global commercial usage-based insurance (UBI) market to 2030 covering 18 regions in Excel format
We respond to key strategic questions:
Is fleet insurance telematics worth it, for the insurer, the fleet TSP and the fleet?
Who in the value chain will have the end customer relationship?
What telematics collection device should I invest in?
Which companies should I partner with to develop my solution?
What services do fleet managers need alongside insurance?
Will OEMs take over data and service provision?
Fill in the form below to download the free abstract
---
Please find our terms and conditions here. Our privacy policy can be viewed here.