TAC 8 meeting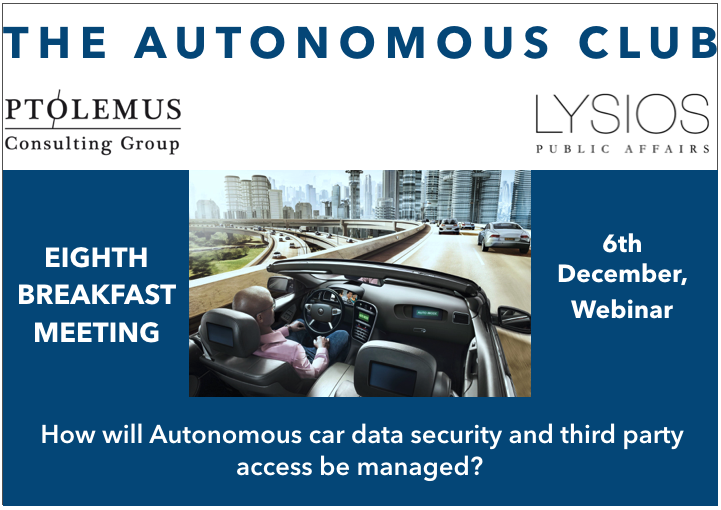 For the first meeting of 2019 we will revisit the most important issue discussed at the Club, the definition, access right, usage right and safety of autonomous car data.
To ensure the discussion is fruitful and balanced we will look at the issue from the regulatory, technical, risk and business angles.
Also, in order to maximise participation in the conversation while keeping it open, we will organise it as a webinar.
The TAC meeting is now free to attend, so everyone will be welcome to listen*.
However only members will have direct access to ask questions to the speakers.
Participants will only be able to log their questions to the moderator.
As always, the debate will be organised around 4 sub-questions introduced by the experts central to the European decision-making process. See the detailed agenda below
You can now register using the form below
January 2019

THE AUTONOMOUS CLUB EIGTH BREAKFAST MEETING

9:00-11.00am CET


WEBINAR,
links will be shared upon registration

 

FREE

How will Autonomous car data security and third party access be managed?


Target questions:

Regulatory

Technology

Risk

Business

What will be the standard mechanisms to manage AV data?

What type of autonomous car data will need to be shared?

What is the rule book on control, ownership and sharing of autonomous car data?

How to ensure that the shared autonomous vehicle data is protected?

There has never been a real breach in car data security, so why is cybersecurity in AV and mobility so important?

If cyber risk on AVs is systemic, can we even calculate the liability?

What part of the mobility value chain will be liable for data security?

How and who will access car data in 5 years?

Will the OBD plug still exist in 5, 10 years?

How much cheaper will direct car data have to be, to become more interesting than OBD data?

What will the role of smartphone data be in that time frame?

What will be the business model of the autonomous car data?

Who should have access to autonomous car data?

What are the basic principles defining access rights?

How will third parties be protected including repair centres, insurers, periodic inspection centres or roadside assistance providers?
To register, simply fill in the form below
Please fill in the form below to register to The Autonomous Club's December webinar
*The Autonomous Club reserves the right to refuse entry. The club is open to companies and associations that are directly involved in the development of connected and autonomous vehicles