Recent evolutions of ADAS (Advanced Driver Assistance Systems) impact assessment on auto insurance premiums
Date:
Thursday September 1, 2022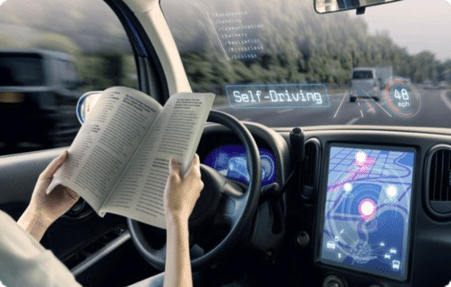 What near future improvements of the auto insurance industry can we expect on the matters of driver risk and liability assessment?
Drivers generally search for solutions that exist–or are expected—which would help them reduce their auto insurance premiums. The Covid-19 pandemic and the recent inflation peaks have increased this desire. The former led to less miles driven per passenger on average in developed countries and the latter made the car insurance bill even harder to digest.
Auto insurance is historically designed around safe drivers paying for the risks induced by unsafe drivers. Usage-based insurance (UBI) introduces a paradigm shift wherein insurance premiums are aligned with driving skills and habits.
The development of autonomous vehicles is an opportunity to push that solution even further. And while some limitations about the full grasp of autonomous driving's impact on a car's risk has constituted an issue for insurers, two recent developments are paving the way for better fairness in insurance pricing in the 21st century.
ADAS (Advanced Driver Assistance Systems) and insurance liability
ADAS, or Advanced Driver Assistance Systems, are a set of features embedded in a car that partly or fully assist the driver on his or her journey. They allow an automatic and autonomous reaction of the car in case an unwanted event such as lane departure or a collision is detected. They can also be manually activated for specific actions such as parking.
The system is organised by five levels of vehicle autonomy – according to the classification provided by the Society of Automotive Engineers (SAE): driver assistance (L1), partial automation (L2), conditional automation (L3), high automation (L4), full automation (L5).
Contrary to the first two levels, in level 3, the driver is allowed to take his/her hands off the steering wheel – but is expected to be able to react in case of an emergency. This is where the liability issue may become ambiguous. The ambiguity is even more pronounced if the driver has subscribed to a usage-based insurance (UBI) policy or, more specifically, a Pay-How-You-Drive (PHYD) or Reward-How-You-Drive (RHYD) type of policy.
With these two types of policies,  customers benefit from premium reductions or rewards, depending on their qualitative utilisation of the car. However, we know that in the future, driving actions and habits perceived as bad by insurers (harsh braking and cornering, driver distraction, collision, etc), may be caused either in instances where automatic driving mode had been activated or in instances where it hasn't.
This raises two important questions: first, how do insurers effectively capture the automatic driving features of a specific car, and second, how do insurers ensure that they can determine with precision when the automatic mode was activated.
PTOLEMUS forecasts that by 2030, there will be 566 million connected cars worldwide, and among them 96 million will be insured by line-fitted enabled UBI. Such a magnitude of technology and solution adoption implies a necessity to provide clear answers to the above questions.
SWISS RE's Advanced Driver Assistance Systems Risk Assessment Score
To properly reflect the impact of ADAS on insurance premiums, Swiss Re, a leading insurance provider, has developed an ADAS risk assessment score. Built on strong statistical methodologies, the globally available risk score gives a clear indication of how the safety performance of a vehicle is affected by its ADAS equipment.
Released in its first version in 2019 following a collaboration with the BMW Group, the model has been continuously improved ever since. Swiss Re has since extended its collaboration with insurance companies to Toyota Insurance Services in 2020 and more recently the full-stack digital insurance company Wefox in its launch in Italy.
The ADAS risk score is based on the identification of the ADAS features available in a given car. The most accurate way to perform this identification is through a vehicle's VIN, a 17-digit code unique to the vehicle. As Luigi Di Lillo, head of Products and Partnerships at Swiss Re put it in a 2021 interview, 'ADAS Risk Score uses the vehicle's VIN to connect to granular vehicle build data, namely very detailed information regarding the vehicle equipment, including the technical specifications for the wide range of features and options installed'.
Swiss Re claims that the ADAS risk score can significantly improve the predictive power of the car risk model, compared to the traditional base model. Tests conducted by the firm on various insurers' portfolios led to the conclusion that the predictive power of the ADAS risk score is 30% higher than that of technical rates provided by traditional models, for about 50 to 60% of the policyholders in the portfolios. The results were similar for both Motor Third Party Liability and Motor Own Damage coverages.
Patent issued for real time detection of autonomous driving activation
Even when insurers have a good understanding of the autonomous driving features of a car, if an incident occurs they can't tell with precision whether and when any automatic driving feature had been activated by the car. But the situation will soon improve.
The California based insurtech Avinew has been developing a solution to the above issue and has recently issued an amended version of their patent that allows detection of autonomous driving in a car. The solution they have developed allows detection of the activation of autonomous driving in a car 'by evaluating sequential vehicle operation data against subtractive and additive heuristic rules that define a likelihood of an automatic driving feature having been engaged as a function of vehicle performance during any time intervals of the sequence of time intervals.'
The summary of the patent proceeds as follows: 'In some embodiments, a system or method provides sequential vehicle operation data for a sequence of time intervals for a vehicle that has an automatic driving feature. The sequential vehicle operation data does not include an explicit indication of whether the automatic driving feature was engaged during any time intervals of the sequence of time intervals. First automatic driving information is initialised for the vehicle to indicate that the automatic driving feature was engaged during all of the time intervals. Second automatic driving information is generated for the vehicle by subtracting from the first automatic driving information a first portion of the time intervals for which the sequential vehicle operation data indicate operation of the vehicle outside of first specified operational ranges. The second automatic driving information provides an indication that the automatic driving feature was engaged during a first subset of the time intervals.'
Full description of the patent is available here
The two developments represent an interesting opportunity for insurers, in two ways: first, insurers that partner with the developers of the solutions are more likely to have a better financial performance than their peers, and second, early adopters have a chance to secure an advantage that they can capitalize upon when the solutions inevitably become ubiquitous. We can also expect more developments to occur in the industry in the future on the matters of driver risk and liability assessment, especially as established Vehicle Data Hubs (VDH) such as Verisk and Vodafone Automotive look to expand their influence in the market.
To learn more about how will the autonomous vehicle industry evolve and how will auto insurance be impacted, don't hesitate to purchase our Autonomous Vehicle Global Study and our Connected Auto Insurance Global Study.