Is there a business case for in-cab cameras in Europe?
Date:
Monday July 21, 2014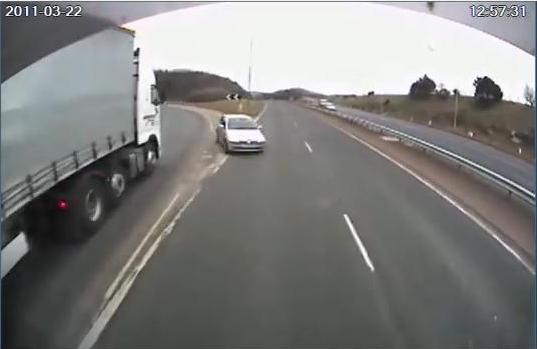 In-cab forward-facing cameras are becoming more popular within both the commercial fleet and insurance industries. Once regarded with a degree of suspicion by drivers who felt uncomfortable with a 'Big Brother' device in their cabs, they soon realised that the camera data could actually work for them, rather than against them.
To clarify, we're discussing forward-facing cameras here, as opposed to inward-facing cameras that monitor the drivers or/and their passengers. While inward-facing cameras serve many purposes, such as monitoring that passengers and taxi drivers don't attack each other, or ensuring that truck drivers aren't falling asleep at the wheel, this blog is purely about forward-facing cameras.
In the EU, the UK appears to lead the way in telematics, with many major fleets going the forward-facing in-cab camera route. The popularity of in-cab cameras is increasing in other EU countries as well, with Intelligent Telematics saying they are now selling devices in the Netherlands, Spain and Germany.
So, how strong is the business case for in-cab cameras? Well, from a road safety perspective, a Virginia Tech Transportation Institute study revealed that more than 800 lives could be saved each year using video-based driver safety technology, and that the DriveCam Program alone could prevent more than 25,000 commercial vehicle collisions and nearly 40,000 injuries annually.
While the insurers may be pushing for in-cab camera usage in distressed fleets, the major push is, in fact, coming from savvy fleet managers looking not only to reduce their insurance costs, but also to increase operational efficiency.
An estimated 90% of all in-cab cameras are fitted in fleets and commercial vehicles, but there is also a growing awareness and acceptance of in-cab cameras in the private vehicle sector. Graeme Trudgill, Executive Director of the British Insurance Brokers' Association, says there are a number of reasons for this. Firstly, the price of the devices is dropping. Secondly, insurers believe that drivers tend to drive more sensibly when there's a camera recording their journey, which brings us to the third reason: drivers can take advantage of discounted premiums offered by insurers for vehicles equipped with the technology.
In Russia, in-cab cameras are becoming increasingly popular in private vehicles, not only to help stamp out insurance fraud, but also because insurers in Russia will not pay on a claim unless the driver can prove he was not at fault.
Over in the US, Lytx announced more than 55,000 new DriveCam subscriptions last year, although the company attributes the device's popularity more to fleet managers' need to monitor driver behaviour.
In-cab camera providers believe insurers should encourage the use of in-cab cameras as they have a direct result on loss ratios. There are suggestions that cameras could reduce claim costs by up to 50%, so some insurers have even started to make contributions towards the camera's price or provide end-of-period rebates. Today, in-cab camera sales are up ten times from three years ago, and growing fast as more case studies and results are published.
In terms of how the insurers use the camera data, few use it for driver risk rating because most cameras are inexpensive standalone SD card models that record and erase 3 minutes of video. They are perfect for evaluating insurance claims and mitigating or defending incidents, but do not provide immediate FNOL.
The more sophisticated solutions combine video, telematics and 3/4G technologies to capture and transmit video footage of accidents and near misses via a secure private network to a web-based interface, with real-time email and SMS alerts so a triggered event can be viewed within minutes of it occurring. Costs increase rapidly as the camera is connected to a tracking device and the system is monitored in real-time, often by a third party control room.
Like with telematics data, claims with video data rarely get to court, as it's often quite obvious who was to blame and the resultant legal fees would make it uneconomical.  Such claims tend to be settled quickly whether fault or no-fault, saving both fleets and insurers money.
There is no doubt that there IS a business case for in-cab cameras.  The SD models are inexpensive at around €100 and provide data for use in insurance claims. The integrated and connected cameras record data not only for insurance purposes but also for transport managers to monitor driver behaviour and use as a training tool.
Whilst anything that can help to reduce accidents and cut insurance costs is worthwhile, this is also about saving lives; research indicates that HGVs were involved in more than half of all fatal accidents on motorways and one in five fatal accidents on A-roads last year.
*Image from Roadhawk