Fleet telematics will grow despite shrinking ARPU
Date:
Wednesday January 24, 2018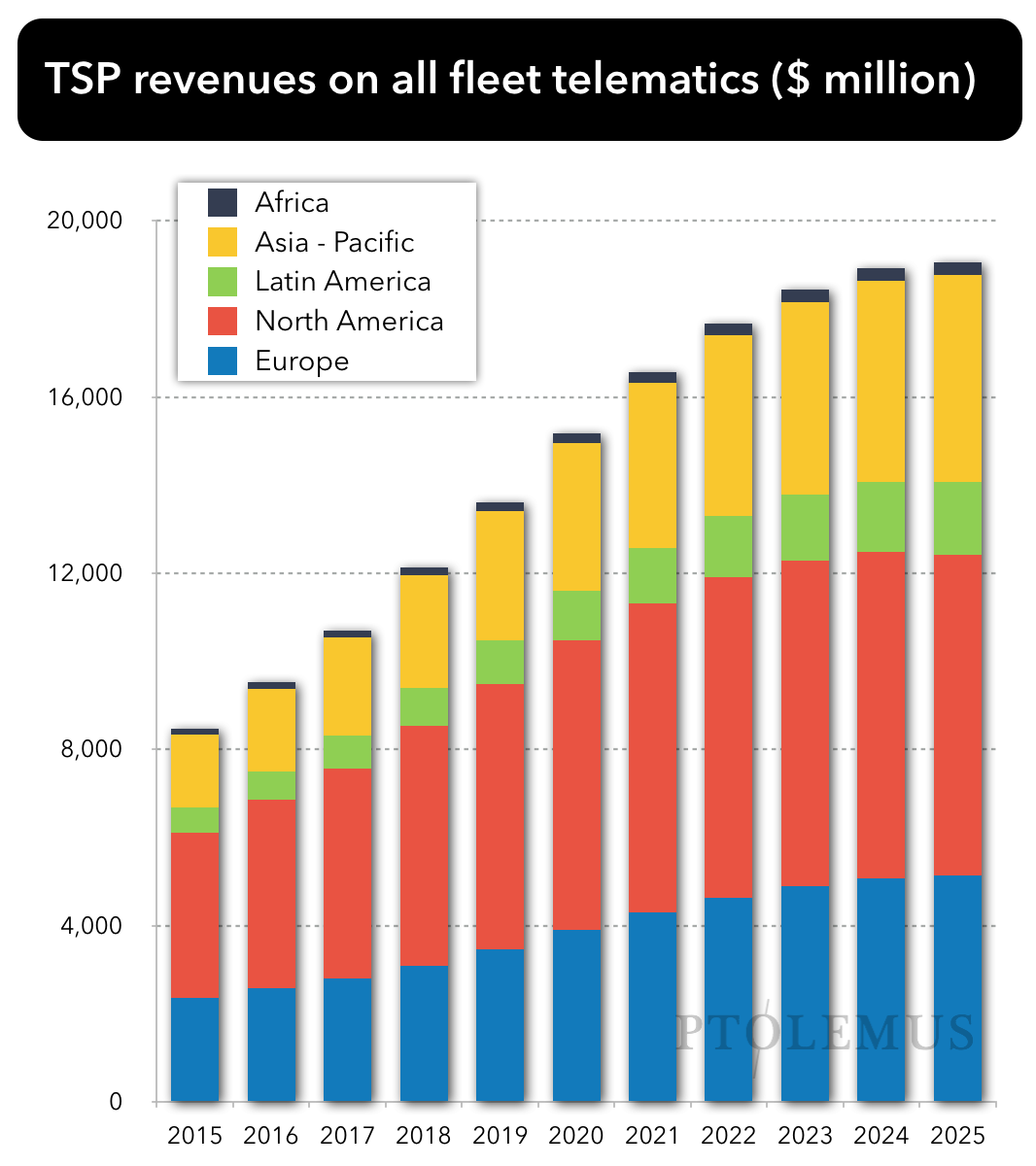 The global fleet telematics market will grow from $10 billion to $16 billion in the next 5 years
PTOLEMUS' newly launched Connected Fleet Services study provides an assessment of the 5 key domains influencing the total cost of ownership (TCO). The study includes a forecast of the North American fleet telematics market,  which is already worth $4.2 billion and it set to grow to $7 billion by 2025. 
The rapid growth in volumes and revenues available to telematics service providers (TSPs) is primarily linked to the greater penetration among HGVs, which typically pay a higher subscription fee than LCVs and company cars. 
The results of the overall revenue forecast are linked to a series of factors including:
Lower hardware costs due to regulatory mandates, such as the ELD and tachograph, increasing volumes and the results of OEMs, which are actively investing in direct service provision with competitive prices such as Navistar's $25 per month offer,
The fact that fleet telematics will not switch to smartphones as quickly as with other connected vehicle services due to the necessity to connect to the CAN bus,
Lower overall volumes of commercial vehicles on the road in Western markets after 2021 as a result of efficiency gains, platooning, freight sharing and competition from other transport modes,
The telematics ARPU in the US and Europe is generally resilient. Despite falling costs, the constant extension of new features and quality improvements tend to slow its natural decrease.
The full analysis of the telematics market as well as the forecast and examination of the connected fleet insurance and fuel card markets are provided as part of the Connected Fleet Services Study, download it here.