Vehicle data hubs will enable a €300 billion market globally by 2030
Date:
Friday March 27, 2020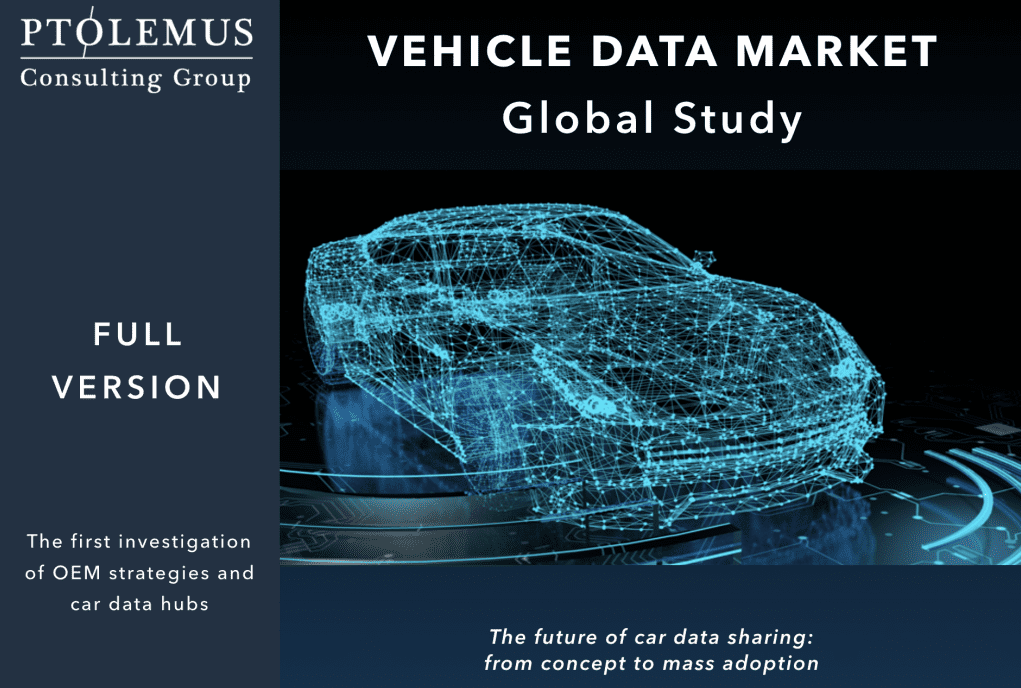 [Brussels – 25th March 2020] PTOLEMUS Consulting Group has published the Vehicle Data Market Global Study, the first in-depth report to analyse how car makers, service providers and drivers can leverage connected car data.
Based on 50 OEM interviews, the 600-page study predicts that 300 million connected cars will transfer data through market places by 2030. They will generate revenues of €300 billion for service providers (including OEMs) including €61 billion in vehicle repair, €53 billion in fuel card payments and €44 billion in insurance. 
While OEMs have always preferred to select those they share car data with, PTOLEMUS predicts that this will radically change within the next 3 years. Regulatory pressure in Europe and in the US will push them to open up the gates to all data users in a non-discriminatory manner.
PTOLEMUS' investigation suggests that most OEMs, for example BMW, Daimler and GM, are already selecting Vehicle Data Hubs (VDHs) to share their data with third parties, with a view to scale up the number of data recipients and datasets exchanged. 
Frederic Bruneteau, Managing Director, PTOLEMUS Consulting Group stated: "OEMs recognise themselves that data has never been the number 1 priority for them because they are in the business of designing, selling and maintaining cars. As OEMs are now entering their biggest crisis ever and must at the same time fund the Connected, Autonomous, Shared & Electric (CASE) revolution, they are increasingly dependent on state aid and regulations. Which makes it now almost certain that they will be forced to open up their data to third parties. It may even be their last chance for survival."
A 120-page free abstract of the report can be dowloaded here.
The 600-page study contains:
An appraisal of the data strategy of 15 car manufacturers,

An analysis of critical regulatory issues (access to data, data protection, data standardisation),

An in-depth

assessment of 9 Vehicle Data Hubs (VDHs): Caruso, CCC, HERE, High Mobility, LexisNexis, Otonomo, Terbine, Verisk Analytics and wejo,

7 case studies of OEM data sharing implementations,

2020-2030 car data market forecasts in 18 countries and 10 vertical markets, from vehicle repair to fleet management and leasing.
PTOLEMUS Consulting Group is the first strategy consulting & research firm entirely focused on connected & autonomous mobility. It assists all leading mobility stakeholders players including automotive OEMs, data hubs and vertical service providers in defining & deploying their strategies.
###
For more information, please contact Claire Elnécavé, Senior Consultant at vdm@ptolemus.com.