Supply challenges and the future of used EVs
Date:
Monday January 16, 2023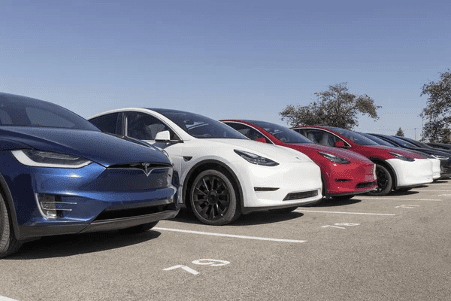 Long lead time for the delivery of EVs has raised eyebrows for many fleet managers. Vehicles such as the Kia Niro EV and Nissan Leaf have a waiting time of nine months. Luxury brands such as the Porsche Taycan have a lead time of up to 18 months. Long delivery time can increase anxiety among fleet managers as it can directly impede the operations of the company. In this article, we will highlight how fleet managers can cope with the long lead times for EVs with a particular focus on the future of used EVs.
Causes of the ongoing supply crisis for EVs
An EV has twice as many semiconductors as a conventional car. The demand for semiconductors increased considerably post-2020, however, supply was hampered by COVID and the Russia-Ukraine war. For example, Neon and hexafluoro butadiene gases (which play a crucial role in the manufacturing of semiconductors) now face shortages due to the war. These events also led to the closure of factories and a limited workforce that created an immense backlog which was only made worse by this increased demand from the auto and electronic sectors.
How fleet managers can cope with excessive lead time for EVs
Fleet Managers must research lead times for EVs before placing orders. It is also imperative for fleet managers to understand what OEMs are doing to mitigate delivery lead times.
Identifying and establishing a relationship with multiple OEMs can help a fleet Manager to gain knowledge of an up to date "map" of EV delivery lead times.

Companies like Tesla have developed alternative software programming to lower chip dependency from external parties and increase delivery lead times.

Fleet managers have to rely on OEMs that can provide EVs which can perform daily jobs without the need for complex specifications (that require advanced chips).
Some OEMs have resorted to removing functions to reduce chip dependency and enable shorter delivery times temporarily, but this can create a disparity between available vehicle specifications and delivered (versus ordered spec) products.


For example, GM has temporarily halted heated seats on select vehicles in order to maintain delivery lead times
According to Car Expert, electric steering column adjustment is not available on E-Tron models of Audi.
OEMs are also investigating how to completely re-design the CANbus network of their vehicles to minimise chipset dependency.
Reliance on used EVs will decrease dependence on new EVs which have a high lead time
Fleet managers must decide which is the lesser of two evils: paying a premium above the purchase price or dealing with excessive lead times. An example can be seen in China, where a Tesla Model Y (in a used condition) has been sold above the original purchase price. According to Cleantechnica, The Tesla Y model was in the market for RMB 276,000 in September 2021; the car was, however, then sold for more than RMB 300,000 on the used EV market. This shows that fleet managers can cut waiting time and place orders for EVs that are readily available in ample time but they will have to pay for that convenience.
Dealers in China, listed a used model Y $2,700 above the new ones due to late delivery of the new models. Consumers in China are waiting for six months to buy a new Tesla model Y. The used market for China has been elevating since 2019. In China, the value retention of EVs has risen by 6.5% (from 43% to 49.5%) despite the government slashing subsidies.
Word of mouth and influence on used EVs
Word of mouth plays a critical role in the sale of used EVs. The sale of particular EV types will lead to high word of mouth.
Electric cars have more scope than other EVs due to considerable sales and legislation supporting electric cars. Electric cars had 8.6% of sales in comparison to all cars sold globally in 2021. Word of mouth to support electric cars is expected to grow due to the increase in electric car sales.
Electric vans had a 2.3% share of all vans sold globally. The market for used electric vans is expected to grow exponentially since there are new deals being signed among industry giants for the delivery of last-mile electric vans. According to Electrek, Amazon has announced 1 billion euros in Europe to electrify its fleet in the next 5 years. Amazon plans to roll out 1000 electric vans manufactured by Rivian across the USA. American work-ready rental company Kingbee also announced to purchase of 9,300 electric vans from Canoo in 2022. British Gas also has plans to add 2000 more electric vans from Vauxhall.
Electric buses are mostly state-owned as they provide public service to consumers. The sale of electric buses is 14% globally in comparison to all buses in 2021. However, electric buses are expected to fully utilize their useful life before landing in second-hand markets. The depleted battery will put a question mark on the resale of electric buses (due to their large size and expensive batteries). Electric buses will have more resale in neighbouring countries. Used electric buses in Europe could have a market in Africa. Pakistan and India could have used the electric bus market from China.
Electric trucks are expected to have the lowest word of mouth as they only sold 0.3% considering the global share of the sale of trucks. Tesla's semi may be a game changer due to the excellent credibility of the company. However, the lack of abundant fast charging on the route poses a significant challenge to sales of electric trucks.
Legislation supporting used EVs
France provides subsidies (€5,000) to purchase used EVs
The inflation reduction act in USA has schemes for used EVs (Purchase price should be below €23,537)
Mandates in Europe and US to halt new gasoline-based vehicles by 2035 will increase buyers' confidence in the used EV market for cars
Challenges for used EVs
The lack of precise information on the EV battery degradation condition is seen as an impediment to resale. Batteries, on average, are 1/3 the cost of the vehicle. Although EVs provide information on battery range and battery conditions. Battery degradation remains unclear and is not visible in EV's dashboard or phone applications. Consumers can judge the range difference between full charges after some years. Battery degradation is expected to improve over the years with battery innovation to cool the battery and elevate the chemical composition of elements in the batteries. A recent example of Nissan Leaf degradation is showcased below.
The state of health of the batteries is a critical indicator used to assess the used market value of an electric vehicle. VIN-specific battery health scores and battery health certificates are becoming increasingly common: The scores and certificates can be issued based on a reliability indicator from a credible party, such as the manufacturing OEM.
The market for used EVs is expected to grow congruent with the popularity of EVs among the masses. Supply chain issues put a constraint on the demand for new EVs which can be filled by the used EV market in the short term. In the long term, the used EVs market will consolidate when people have a robust method to measure battery degradation which impacts the residual value of EVs. Legislation, word of mouth, and battery health certificates will all play a crucial role to elevate the used market for EVs in future.
A more thorough, detailed analysis of this topic can be found in our Fleet Electrification Global Study.