TAC meetings
Initial meeting programme of The Autonomous Club (TAC)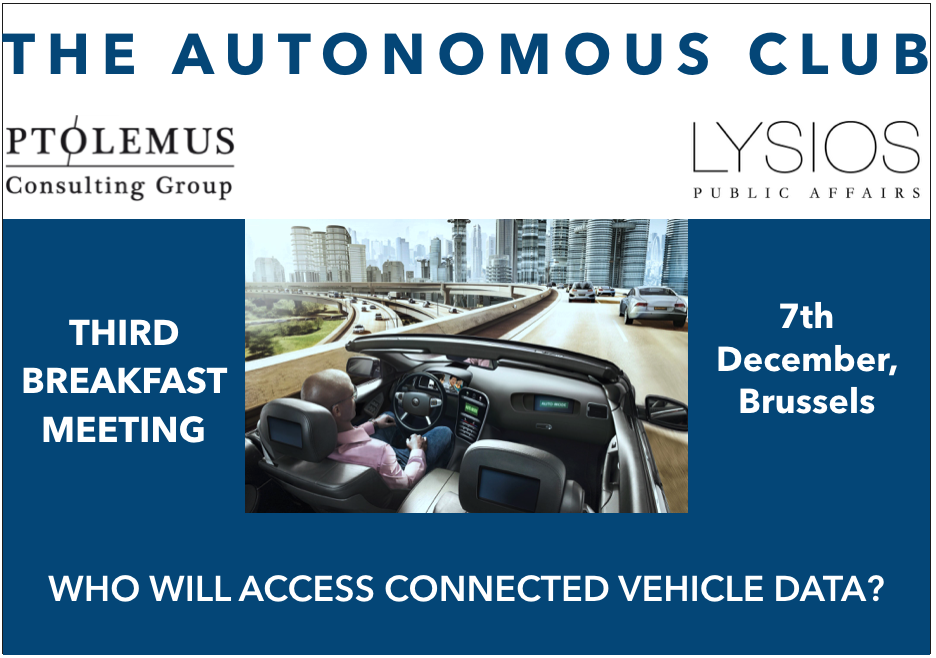 Connected cars are already a reality in Europe and the market is expected to reach nearly €350 billion in 2020, but the revolution of transport will come from the deployment of automated vehicles. Although the first vehicles are not expected to be launched at the commercial stage before 2023, they could reach a global base of 14 million by 2030.
Despite this very quick uptake and its disruptive potential for multiple industries, very few businesses are aware of how the automated vehicles revolution will impact their future. Many are already on the move on these issues but the rest of the automotive ecosystem (OEMs and automotive suppliers, rental companies, private and public transport operators, infrastructure builders to name a few) needs to get in motion.
The topicality and the lack of awareness on this major development prompted The Autonomous Club (TAC) to organise a flexible programme of key topics based on the bi-monthly cycle of meetings.
While most of the meetings are planned in Brussels, if the needs is shared, TAC will be able to accommodate some of the meetings in other European capitals.
TAC EVENT SCHEDULE

Date

Theme

7th December 2017
Brussels

Who will control and access autonomous vehicle data?

TAC Members: Free

TAC open group: €90

February 2018

Should Europe mandate V2V?

TAC Members: Free

TAC open group: €90

April 2018

The impact of AVs on urban mobility

TAC Members: Free

TAC open group: €90

June 18

Autonomous trucks changing the logistics landscape

TAC Members: Free

TAC open group: €90
The meeting of the 20th October 2017 on the regulations needed to bring AVs into the cities has been postponed to April 2018.
TAC will organise its third meeting focusing on the control and management of car data on December 7th. You can now register using the form below
THE AUTONOMOUS CLUB THIRD BREAKFAST MEETING

7th December

Breakfast meeting from 8.30-11.00am

€90

Who will control and access autonomous vehicle data?


Registration and coffee

8.30 AM start

Topics include

What type of autonomous car data will need to be share?

How to share autonomous car data?

Who should have access to autonomous car data

In what circumstance will AV data be shared?

Speakers confirmed

Ismail Ertug MEP, Member of the Transport Commission, European Parliament

Alain-Marc Chesnier, Strategic Marketing and Transformation Programme Manager, COVEA

Sophie Nerbonne, Directrice en charge de la conformité, CNIL

Wrap up and networking coffee

11AM close
To register, simply fill in the form below