UBI dashboard update January 18
PTOLEMUS latest UBI market update concludes that the usage-based insurance market has grown by 26% in 2017 thanks to no less than 280 insurance brands lead by UnipolSai, Progressive and Allstate.
Motor insurance policies priced based on observed risks have continued to multiply in 2017, with the global market growing at an average 6% per quarter, reaching a total of 17.4 million policies.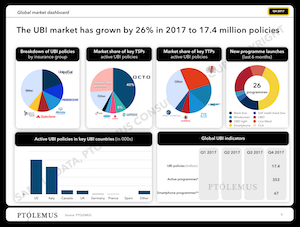 Growth has been led by the 3 pioneering US carriers Progressive, Allstate and State Farm. Combined, they represent an impressive 35% of the global UBI market. Italy remains second with UnipolSai and Generali still ahead in the only country where UBI penetration is above 15%.
With over 30 new programmes, Europe is still where most of the activity has been seen over the last year.
Connected insurance has also reached many new insurance carriers, in countries as diverse as Guatemala, Luxembourg, Malawi, Malaysia, Mexico, Philippines, Poland and Tunisia.
Dedicated hardware devices still account for the large majority of UBI delivery models; out of more than 50 new programmes launched worldwide in 2017, only 37% are using the smartphone as a sensor.
Yet, PTOLEMUS believes the momentum around mobile UBI will continue and that adoption rates will accelerate, although dedicated devices, such as black boxes and OBD dongles, will remain dominant in the medium term. This is reinforced by the growing range of hardware types used for data capture, ranging from cigarette lighter adaptors devices to connected dashcams.
The progression of smartphone as a sensor has however promoted one service provider (TSP) above all else Cambridge Mobile Telematics, who in 2016 was not even ranked in the UBI dashboard, has now taken the second place by volume behind Octo Telematics, which remains the clear leader in this market with 40% global market share.
Finally, alongside the evolution of mobile insurance capabilities, PTOLEMUS has been following the (invisible but rapidly progressing) emergence of insurance services based on vehicle manufacturers' data. The first 2 schemes based on the so-called extended vehicle concept were launched in 2017.
You can download the global dashboard 2017 directly here. 
For more information on the UBI market and /or more detailed figures, please contact thomas@ptolemus.com
PTOLEMUS is the first strategy consulting & research firm entirely focused on connected vehicle services and the Internet of Things. It assists all connected insurance stakeholders in defining and executing their strategies. It has completed nearly 100 assignments related to telematics, 50 in the domain of UBI and insurance analytics.