TAC 6 meeting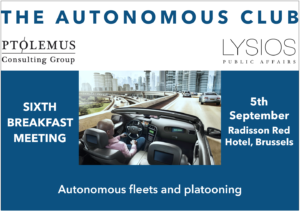 TAC will organise its sixth meeting focusing on automation for fleet vehicles on September 5th. You can now register using the form below
The focus of the meeting will be to answer specific questions related to regulation, technology, risk, infrastructure and business. Each invited speaker will focus on one or two questions.
5th September 

THE AUTONOMOUS CLUB SIXTH BREAKFAST MEETING

8.30-11.00am

New meeting place!
Radisson Red Hotel., Rue d'Idalie 35, 1050 Brussels, Belgium

 

€90

Free for corporate members

Autonomous fleets and truck platooning


Registration and coffee

8.30 AM start

Target questions:

Regulatory

Technology

Risk

Infrastructure

Business

What are the regulatory changes needed to enable trans-European platooning?

What role will motorways take in the facilitation of platooning? will it be market or government led?

Should more ADAS features be mandated in commercial fleets?

How will risk management, insurance and liability evolve to support assisted and later platooning fleets?

Speakers

Jean-François Aguinaga, Head of Unit, Surface Transport – DG Research & Innovation – EUROPEAN COMMISSION

Dr.-Ing. Amol Naik, Product Manager, Transport & Logistics at HERE TECHNOLOGIES


Odile Arbeit de Chalendar, Special Advisor at IFSTTAR – European co-ordinator for the 2016 European Truck Platooning Challenge


Lisa Brown, Chief Legal Officer at WABCO

 

Wrap up and networking coffee

12 AM meeting end
To register, simply fill in the form below
2018 TAC MEETING SCHEDULE

Date

Theme

17th October 2018
Brussels

contact us
if you want to speak

TAC7: Update on type approval and liability regulation in Europe

Target questions will include:
How will the industry standardise driver assistance systems both in terms of functionality and taxonomy
How to manage type approval when cars capabilities and performance can be updated over the air?
One year on, what do we know now about liability framework for autonomous vehicles?
What data recording requirements can we expect in future vehicles?
Should the type approval or an other authority regulate the way assistance features are named and explained

TAC Members: Free

TAC open group: €90

6th December 2018
Brussels

contact us
if you want to speak

TAC8: Car Data security and third party access

TAC Members: Free

TAC open group: €90

February 2019
Brussels
Help us decide!
contact us
if you want to speak

TAC9: Automation in agriculture
OR
TAC9: Do we need to regulation highly precise location?
OR
TAC9: How to charge for Autonomous Vehicles's road usage: Coins or Bitcoins?