Philippe Brousse
Strategy Consultant, Brussels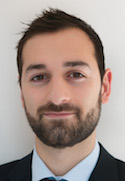 Philippe Brousse is a Strategy Consultant based in Brussels.
Philippe has accumulated 4 years of expertise in the connected mobility domain, working on strategic assignments for clients across the eco-system.
Philippe has performed more than 15 consulting and research assignments spanning the connected vehicles, telematics and location-based services industries. More specifically, he helped various companies ranging from technology start-ups to public authorities on assignments to define their market entry strategies & value propositions, build cost-benefit analyses, forecast market sizes or conduct strategic market research.
Philippe also participated in the research and analysis of two of our recent publications. As part of our Connected Mobility Forecast, he conducted the analysis and 5-year forecasts of the markets for bCall, UBI, fleet management and in-vehicle Wi-Fi hotspots worldwide. Finally, he wrote the smartphone section of our recent UBI Global Study.
Before joining PTOLEMUS, Philippe worked for Altai Consulting, a market research and strategy consulting firm focused on the Telecommunication sector and based in Paris. He participated in several international assignments including market research analysis for marketing and brand advisory for Mobile Network Operators in Africa. Additionally, he carried a process improvement project at SAFRAN MORPHO in their smart cards business units.
Philippe holds an MS degree in Strategy and Management of International Business, from ESSEC Business School, France and a M.Eng. in Telecommunications from Grenoble INP, France. He is fluent in French and English and has a basic understanding of Spanish.
Philippe can be contacted on pbrousse@ptolemus.com