Josef A. Czako
Associate Partner – Germany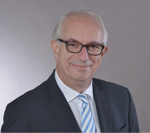 Josef Czako is an experienced Consultancy, Policy Development, Management, and Business Development professional in the fields of Road Transport and Public Transport.
His specific experience includes Intelligent Transport Systems (ITS), Shared Mobility, Road Finance (Electronic Tolling, Road User Charging, Mobility Pricing), Road Safety, Electronic Ticketing and Payment, Automation (e.g. Self Driving Vehicles), and Digitalization (e.g. MaaS – Mobility as a Service).
Josef Czako has a proven worldwide record of successful flagship projects, and an extensive global network into Public and Private stakeholders: Public Authorities, City Governments, Consultants, ITS Industry, Service Providers, or Financing Institutes.
He is a frequent speaker at Transport and Traffic Conferences, as well as a member of numerous Transport and ITS Associations.
Before joining PTOLEMUS, he was the founder of Moving Forward Consulting and also held several management positions at Kapsch TrafficCom, Cubic Transportation Systems, Buscom, INIT, Robert Bosch, Leybold Heraeus, or Potter Instruments.
Mr. Czako is a graduate of the Vienna Technology Institute in Austria, with a M.Sc. in Engineering (Telecommunication). Mr. Czako can be contacted at jczako@ptolemus.com