Our events
Upcoming Conferences
Journal de L'auto

21st March 2019, Paris
PTOLEMUS will participate in the panel discussion on insuring mobility


ADAS Sensors 2019 March 20-21, Detroit, MI

MaaS Market ConferenceMarch 20-21, London, UK

PTOLEMUS will discuss the harsh reality of the future mobility market

How to market true value in insurance
Webinar with representatives from Tapoli and so-sure. Friday 1st February at 4PM GMT


Road User Charging
6-7 March 2019, Brussels


The Autonomous Club
January 28, BrusselsAt the occasion of the adoption of Member of the European Parliament Wim van de Camp's report on autonomous driving in European transport, The Autonomous Club is organising a meeting and cocktail reception at the University Foundation Club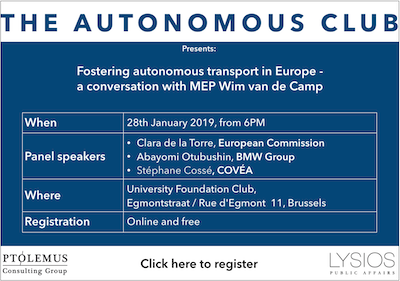 ADAS & Autonomous Vehicles USA
October 16-17, Novi, MI

The Autonomous Club Breakfast Meeting
17th October 2018, Thon EU Hotel, Brussels
The seventh meeting of the club will focus on type approval for CAVs 



Connected Fleet USA
November 27-28, Atlanta, GA
The annual meeting place for those operating in the fleet and fleet technology space. JD Hassan, our Associate Partner in North America, will be joining an expert panel to address commercial lines insurance and opportunities for telematics.
You can register using the code 'PTOLEMUS100' to receive a $100 discount.
TU-Automotive Europe
November 30-31, Munich, Germany



Connected Car Insurance USA
Chicago, Ill, 5-6 September
We will discuss the evolution of mobile insurance strategies with SwissRe and moderate two panel discussions
Data, Evolution and Mobility. The New Ecosystem of Auto Insurance, and
Connected and Distracted?You can register using the code: PTOL200 to get a $200 discount
The Autonomous Club Breakfast Meeting
5th September 2018, Radisson Red Hotel, Brussels
The sixth meeting of the club will focus on automation for fleet vehicles 



eCall Days 2018 – The Future of the pan-European eCall
Hamburg, Germany, 11-12 September
We will present various stakeholder's expectation and requirements of TSP eCall , including insurers and OEMs.



Dig- In
Austin, TX, 14-16 May
We will participate in a panel discussion on how IoT can help making roads safer
IoT Connected Smart Cars 2018
Berlin, Germany, 23-24 May
We will present an overview of the market and current technologies in connected vehicles
Motor Insurance World from POST magazine
24 May 2018, London, UK
I will be presenting the latest in our analysis of the key trends in the insurance sector
The Autonomous Club Breakfast Meeting
5th June 2017, Brussels
The fifth meeting of the club will focus on urban automated mobility



TU-Automotive: Detroit
June 6th -7th Novi, USA PTOLEMUS will moderate two panel discussions: Insurance in an Autonomous World and Getting the Change out of the Data Exchange
 Smart Transportation & Mobility
12 – 14 June, London ExCel
PTOLEMUS will participate as a panel session partner


 TU Automotive Europe
6th  – 7th November 2017, Munich
PTOLEMUS will participate in Europe's largest connected car conference and exhibition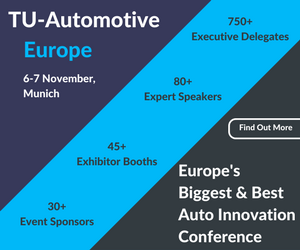 TU Connected Fleets USA 
25th – 26th September 2017, Atlanta
PTOLEMUS will discuss connected fleet services and the changing telematics landscape.


The Autonomous Club Breakfast Meeting
26th September 2017, Brussels
The second meeting of the club will address the question of autonomous vehicle liability with representatives from the insurance and re-insurance industry as well as the European Commission and European Parliament.


TU Connected Car Insurance
6th  – 7th September 2017, Chicago
Frederic Bruneteau will animate the opening keynote with Root's CEO Alex Timm. We will also lead the conversation on the transition to autonomous vehicle insurance; talking to representatives from LexisNexis Risk Solutions, Agero and USAA.


Insurance IoT Insurance Summit
26 – 27 June 2017, London, UK
Thomas Hallauer will take part in the event
Connected Cars & Autonomous Vehicles Europe
13 – 15 June 2017, London, UK
PTOLEMUS will discuss vehicle automation and connected insurance
TU Automotive Detroit 2017
7 – 8 June 2017, Detroit, USA
PTOLEMUS will moderate a panel discussion on the impact of autonomous vehicles on insurance


Telematics Week 2017
8 – 11 May 2017, Beijing, China
All the key players in the Chinese connected insurance will be at the Telematics Week event in Beijing on the 8-11th May. The event brings together all the key vehicle manufacturers, connected service providers and insurers in China for 4 days of conference and networking. The event is split in two: the Telematics insurance Summit and the China Telematics Summit. We will be active and participating throughout the week, contact Thomas if you want to set a meeting up.


Telematics Insurance North America 2017
26 – 27 April 2017, Chicago, USA
PTOLEMUS will take part in this event