Companies mentioned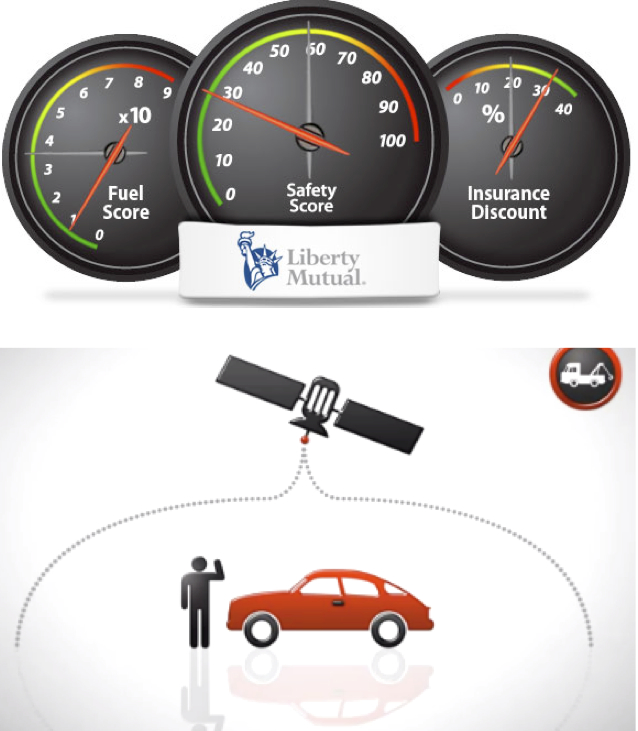 The Insurance Telematics Study is the most comprehensive report written on Pay as you Drive (PAYD) and Pay how you Drive (PHYD) insurance globally.
As part of our research, we have held discussions with 83 organisations in 18 countries including
29 insurance companies,
17 Telematics Service Providers (TSPs),
8 Telematics Technology Providers (TTPs),
6 automotive Original Equipment Manufacturers (OEMs) and tier-1 suppliers.
We would like to thank these organisations for their precious contribution to this report. They are listed hereafter and will benefit from an extended free extract of the report and a discount on the price of the Full Study.
We have also listed below the 280 companies that are mentioned in this report.
15 of these companies, such as Liberty Mutual, Generali's Genertel or Progressive are analyzed in depth in PTOLEMUS' Full Study.
| | | | | |
| --- | --- | --- | --- | --- |
| COMPANY NAME                                                    | COUNTRY               | SECTOR                                        | DISCUSSION        |           MENTION          |
| AA | UK | Automobile club | | ✔ |
| AAA Club Partners | USA | Automobile club | | ✔ |
| Accutek Ind. | USA | ODM | | ✔ |
| Achmea | Netherlands | General insurance | ✔ | ✔ |
| ACI | Italy | Automobile club | | ✔ |
| ACTA | France | Roadside assistance provider | | ✔ |
| Assercar | France | Repair centres | | ✔ |
| ADAC | Germany | Automobile club | | ✔ |
| Admiral Insurance | UK | General insurance | | ✔ |
| Agero | USA | Automobile club / TSP | | ✔ |
| Aioi Nissay Dowa Insurance | Japan | General insurance | | ✔ |
| Airmax Group | UK | TSP | ✔ | ✔ |
| Aisin AW | Japan | Tier-1 supplier | | ✔ |
| Alcatel-Lucent | France | Telecom equipment vendor | | ✔ |
| ALD Automotive | France | Leasing company | ✔ | ✔ |
| Allianz | France | General insurance | ✔ | ✔ |
| Allianz | Germany | General insurance | ✔ | ✔ |
| Allianz | Italy | General insurance | ✔ | ✔ |
| Allianz | UK | General insurance | | ✔ |
| Allstate Insurance | USA | General insurance | | ✔ |
| Alo@Assurances | France | Consumer insurance | | ✔ |
| Alpine | Japan | In-car audio equipment | | ✔ |
| Altech Netstar | South Africa | TSP | | ✔ |
| Altima Assurances | France | General insurance | ✔ | ✔ |
| Amadeus Capital Partners | UK | Private equity fund | ✔ | ✔ |
| Amaguiz (Groupama) | France | Consumer insurance | ✔ | ✔ |
| ANIA | Italy | Insurance trade association | | ✔ |
| ANWB | Netherlands | Automobile club | | ✔ |
| Aplicom | Finland | TSP/TTP | ✔ | ✔ |
| Apple | USA | Consumer electronics vendor | | ✔ |
| ARM Holdings | UK | Processor design vendor | | ✔ |
| Arval | France | Leasing company | ✔ | |
| ASFA | France | Insurance trade association | | ✔ |
| Assicurazioni Navale | Italy | General insurance | | ✔ |
| Assurland.com | France | Online comparison site | | ✔ |
| Atmel | USA | Semi-conductors vendor | | ✔ |
| Atos | France | IT integrator | | ✔ |
| AutoDirect Insurance | UK | Consumer insurance | | ✔ |
| Aviva (formerly Norwich Union) | UK | General insurance | ✔ | ✔ |
| Axa | Belgium | General insurance | ✔ | ✔ |
| Axa Assistance | France | Roadside assistance provider | ✔ | |
| Axa Matrix Risk Consultants | France | Commercial insurance | ✔ | ✔ |
| Barnes & Noble | USA | Book distribution chain | | ✔ |
| B&Q | UK | Restaurant chain | | ✔ |
| BDI  | Germany | Data protection authority | | ✔ |
| Best Buy | USA | Electronics retail chain | | ✔ |
| Bird & Bird | France | Law firm | ✔ | |
| Blockbuster | USA | Video rental chain | | ✔ |
| BluO Fund | Luxembourg | Private equity fund | ✔ | ✔ |
| BMW | Germany | Automotive OEM | | ✔ |
| Bouygues Telecom | France | Mobile operator |  ✔ | ✔ |
| British Airways | South Africa | Airlines | | ✔ |
| BT Software & Research | USA | Telecommunications operator | | ✔ |
| Budget Insurance | UK | Personal line insurance | | ✔ |
| Bull | France | IT integrator | | ✔ |
| Cap Gemini | France | IT integrator | | ✔ |
| CEA | Belgium | Insurance trade association | | ✔ |
| CEN  | Belgium | Standardisation organisation | | ✔ |
| CertEurope | France | Trusted third party services | | ✔ |
| Cesar Satellite | Russia | TSP | ✔ | ✔ |
| Cinterion | Germany | Connectivity module provider | | ✔ |
| CLAL Insurance | Israel | General insurance | | ✔ |
| Clarion | Japan | In-car audio equipment | | ✔ |
| CNIL  | France | Data protection authority | ✔ | ✔ |
| Cobra Automotive | Italy | TSP | ✔ | ✔ |
| Cobra Electronic Solutions | Italy | TTP | ✔ | ✔ |
| Compagnie Générale d'Automatisme | France | Engineering firm | | ✔ |
| Comparethemarket.com | UK | Online comparison site | | ✔ |
| Confused.com | UK | Online comparison site | | ✔ |
| Continental | France | Tier-1 supplier | ✔ | |
| Corona Direct | Belgium | General insurance | ✔ | ✔ |
| COVEA Group | France | General insurance | ✔ | ✔ |
| Coverbox | UK | Consumer insurance | ✔ | ✔ |
| Crédit Mutuel Arkea | France | Consumer insurance | ✔ | |
| Cybit Masternaut | UK | TSP | ✔ | ✔ |
| Daimler Fleetboard | Germany | TSP | | ✔ |
| Daimler Insurance Services | Germany | OEM | ✔ | ✔ |
| Danlaw | USA | TTP | ✔ | ✔ |
| Data Tec Co Ltd | Japan | ODM | | ✔ |
| Davis Instruments | USA | TTP | | ✔ |
| DBV Winterthur | Germany | General insurance | | ✔ |
| Delphi | USA | Tier-1 supplier | | ✔ |
| Denso | Germany | Tier-1 supplier | ✔ | ✔ |
| Department of Transportation | USA | Government | | ✔ |
| Diamonds | UK | Insurance broker | | ✔ |
| Direct Line Germany | Germany | Consumer insurance | | ✔ |
| Discovery Insure | South Africa | Consumer insurance | | ✔ |
| Diva | UK | Insurance broker | | ✔ |
| Dixon's | UK | Electronics retail chain | | ✔ |
| Drive Service | Italy | Repair & maintenance | ✔ | ✔ |
| DriveCam | USA | TTP | | ✔ |
| Elmic Systems | USA | Embedded software | | ✔ |
| Equity Red Star | UK | General insurance | | ✔ |
| ERTICO – ITS Europe | Belgium | Trade association | ✔ | |
| Europcar | South Africa | Vehicle rental | | ✔ |
| European Commission | Belgium | Government | ✔ | ✔ |
| European Court of Justice | Belgium | Government | | ✔ |
| Exigen | USA | Insurance software provider | | ✔ |
| F&I | USA | Magazine | | ✔ |
| Farmers Insurance | USA | General insurance | | ✔ |
| Fiat | Italy | Automotive OEM | | ✔ |
| Financial Times | UK | Newspaper | | ✔ |
| Fleet Logistics | UK | TSP | | ✔ |
| Fleetmatics / Sagequest | USA | TSP | | ✔ |
| FMSCA | USA | Government | | ✔ |
| Focus | Germany | Magazine | | ✔ |
| Foley & Lardner | USA | Law firm | | ✔ |
| Ford | USA | Automotive OEM | | ✔ |
| Fujitsu Ten | Japan | Automotive supplier | | ✔ |
| Garmin | USA | Electronics | | ✔ |
| GE Equipment Services | USA | Fleet management company | | ✔ |
| General Motors | USA | Automotive OEM | | ✔ |
| Generali France | France | General insurance | ✔ | ✔ |
| Generali Group | Italy | General insurance | ✔ | ✔ |
| Genertel (Generali Group) | Italy | Consumer insurance | | ✔ |
| Geotab | USA | TSP | | ✔ |
| GirlMotor | UK | Insurance broker | | ✔ |
| GMAC Insurance | USA | Consumer insurance | | ✔ |
| Good Technology | USA | Mobile handset vendor | | ✔ |
| Google | USA | Search engine | | ✔ |
| Greenroad Technologies | USA | TSP | | ✔ |
| Groupama | UK | General insurance | | ✔ |
| Grupo Nacional Provincial | Mexico | General insurance | | ✔ |
| Harman | USA | Tier-1 supplier | | ✔ |
| High Point Auto Insurance | USA | Personal line insurance | | ✔ |
| Hitachi | Japan | Conglomerate | | ✔ |
| Hollard Insurance | South Africa | General insurance | | ✔ |
| Honda | Japan | Automotive OEM | | ✔ |
| Hughes Telematics | USA | TSP | ✔ | ✔ |
| HUK-Coburg | Germany | General insurance | | ✔ |
| Hyundai | South Korea | Automotive OEM | | ✔ |
| Hyundai Mobis | South Korea | Tier-1 supplier | | ✔ |
| IBI Group | USA | Studies | | ✔ |
| IBM | USA | IT integrator | | ✔ |
| ID Macif | France | Consumer insurance | | ✔ |
| IDM Trucking | USA | Transportation | | ✔ |
| iKube | UK | Consumer insurance | | ✔ |
| IMA | France | Roadside assistance provider | | ✔ |
| IMS | Canada | TSP | ✔ | ✔ |
| Industrial Alliance | Canada | General insurance | | ✔ |
| ICO | UK | Data protection authority | | ✔ |
| ING | Netherlands | Consumer insurance | ✔ | |
| Innosurance | Australia | Commercial insurance | | ✔ |
| Insure the box | UK | Consumer insurance | | ✔ |
| Interactive Driving Systems | USA | Risk management solutions | | ✔ |
| International Road Union | Switzerland | Trade association | | ✔ |
| Intesa San Paolo Assicuri | Italy | General insurance | | ✔ |
| Iron Mountain | UK | Storage services | | ✔ |
| ISACA | Worldwide | Trade association | | ✔ |
| Iveco | Italy | Automotive OEM | | ✔ |
| IVOX | USA | Risk management solutions | | ✔ |
| Ixonos | Finland | Software developer | | ✔ |
| Jambit | Germany | IT integrator | | ✔ |
| KDDI | Japan | Mobile operator | | ✔ |
| Kia Motors | South Korea | Automotive OEM | | ✔ |
| Kuantic | France | TTP | | ✔ |
| Ladybird | UK | Insurance broker | | ✔ |
| LG Electronics | South Korea | Consumer electronics vendor | | ✔ |
| Liberty Mutual | USA | General insurance | | ✔ |
| LinkedIn | USA | Social networking | | ✔ |
| Lysanda | UK | TTP | ✔ | ✔ |
| MAAF Assurances | France | General insurance | | ✔ |
| MACIF Assurances | France | General insurance | ✔ | ✔ |
| Magneti Marelli | France | Tier-1 supplier | ✔ | ✔ |
| MAIF Assurances | France | General insurance | ✔ | ✔ |
| Mapfre | Spain | General insurance | ✔ | ✔ |
| Markerstudy Group | UK | Consumer insurance | | ✔ |
| Marks & Spencer | UK | Retail | | ✔ |
| Masternaut | France | TSP | ✔ | ✔ |
| MATMUT Assurances | France | General insurance | | ✔ |
| Mercedes Benz | Germany | Automotive OEM | | ✔ |
| Meta System | Italy | TTP | | ✔ |
| Metaskil | UK | Software developer | | ✔ |
| Michelin | France | Tyre manufacturer | ✔ | |
| MileMeter | USA | Consumer insurance | | ✔ |
| Mitsubishi Electric | Japan | Conglomerate | | ✔ |
| Mobile Devices | France | TTP | ✔ | ✔ |
| Mobileye | Israel | TTP | | ✔ |
| Montezemolo & Partners | Italy | Private equity fund | | ✔ |
| Moody's | USA | Rating agency | | ✔ |
| MORE TH>N | UK | Consumer insurance | | ✔ |
| Motaquote | UK | Consumer insurance | | ✔ |
| Motorola Mobility | USA | Mobile phone vendor | | ✔ |
| Nationwide Insurance | USA | General insurance | | ✔ |
| Navteq | France | Map provider | ✔ | ✔ |
| ND a Islandi Ehf | Island | n.a. | | ✔ |
| News of the World | UK | Newspaper | | ✔ |
| NIS Glonass | Russia | Public-private partnership | | ✔ |
| Nokia | Finland | Mobile phone vendor | | ✔ |
| Norton Rose | UK | Law firm | ✔ | |
| Norwegian Biotronics | Norway | n.a. | | ✔ |
| Novacom Europe | Netherlands | TSP | | ✔ |
| NXP | Netherlands | Chipset vendor | ✔ | ✔ |
| ÖAMTC | Austria | Automobile club | | ✔ |
| Octo Telematics | Italy | TSP | ✔ | ✔ |
| Oracle | USA | ERP software | | ✔ |
| Orange | UK | Mobile operator | | ✔ |
| Orange Business Services | France | Integrator / TSP | ✔ | ✔ |
| ÖSA  | Germany | General insurance | | ✔ |
| Pacifica Assurances | France | General insurance | | ✔ |
| Panasonic | Japan | In-car electronics | | ✔ |
| PHS Datashred | UK | Business services | | ✔ |
| Pioneer | Japan | In-car electronics | | ✔ |
| Polis Direct | Netherlands | Consumer insurance | | ✔ |
| Privacy International | UK | NGO | | ✔ |
| Progressive Insurance | USA | Consumer insurance | | ✔ |
| PSA Peugeot Citroën | France | Automotive OEM | ✔ | ✔ |
| Punch Telematix | Belgium | TSP | | ✔ |
| QNX | Canada | Embedded software | | ✔ |
| Qualcomm Enterprise Services | Netherlands | TSP | ✔ | ✔ |
| Quality Planning | USA | Insurance services | | ✔ |
| RAC | UK | Automobile club | | ✔ |
| RACE | Spain | Automobile club | | ✔ |
| RBS Insurance | UK | General insurance | | ✔ |
| Real Insurance | Australia | Consumer insurance | | ✔ |
| Reala Mutua | Italy | General insurance | | ✔ |
| RealVNC | UK | Embedded software | | ✔ |
| RelayRides | USA | Car sharing provider | | ✔ |
| Renault | France | Automotive OEM | | ✔ |
| Renault Trucks | France | Automotive OEM | | ✔ |
| Renesas | USA | Semiconductors | | ✔ |
| Robert Bosch | Germany | Tier-1 supplier | | ✔ |
| Rosno (Allianz Group) | Russia | General insurance | | ✔ |
| Royal & Sun Alliance | UK | General insurance | | ✔ |
| Safeco | USA | General insurance | | ✔ |
| SageQuest | USA | TSP | | ✔ |
| Samsung | South Korea | Consumer electronics | | ✔ |
| SAP AG | Germany | ERP software | ✔ | ✔ |
| Sara | Italy | General insurance | | ✔ |
| Scania | Sweden | Automotive OEM | | ✔ |
| Scope Technologies | Singapore | TSP/TTP | ✔ | ✔ |
| Second Opinion Financial Systems | USA | Software developer | | ✔ |
| Seesam | Latvia | General insurance | | ✔ |
| Sensomatix | Israel | Data management | ✔ | ✔ |
| SFEREN | France | General insurance | | ✔ |
| Sheila's Wheels | UK | Insurance broker | | ✔ |
| Sierra Wireless | Canada | Connectivity module provider | | ✔ |
| SiRF (CSR Group) | UK | Chipset vendor | | ✔ |
| Skymeter | Canada | TTP | ✔ | ✔ |
| SmartDrive | USA | TTP | | ✔ |
| Société Générale | France | Bank | | ✔ |
| Sogessur | France | General insurance | | ✔ |
| Solly Azar (Verspieren Group) | France | Insurance broker | ✔ | ✔ |
| Sony | Japan | Consumer electronics vendor | | ✔ |
| Sony Ericsson | Japan | Mobile phone vendor | | ✔ |
| Standard & Poor's | France | Rating agency | ✔ | ✔ |
| State Farm Insurance | USA | General insurance | | ✔ |
| Stellar International | Ireland | n.a. | | ✔ |
| Stok Nederland | Netherlands | TSP | ✔ | |
| T-Mobile | Germany | Mobile operator | | ✔ |
| TCS | Switzerland | Automobile club | | ✔ |
| Telefonica | Spain | Mobile operator | | ✔ |
| Telenav | USA | Navigation / MRM provider | | ✔ |
| Teletrac | USA | TSP | | ✔ |
| Telit | Italy | Connectivity module provider | ✔ | ✔ |
| Telogis | USA | TSP | ✔ | ✔ |
| Test-Achats | Belgium | Consumer rights organisation | | ✔ |
| Texa | Italy | TTP | ✔ | ✔ |
| Thatcham | UK | Certification company | | ✔ |
| The Carphone Warehouse | UK | Telecommunications retail | | ✔ |
| The Co-operative Insurance | UK | General insurance | ✔ | ✔ |
| The Hartford | USA | General insurance | | ✔ |
| The Sun | UK | Newspaper | | ✔ |
| The Wall Street Journal | USA | Newspaper | | ✔ |
| Thélem Assurances | France | General insurance | | ✔ |
| Tiger Wheel & Tyre | South Africa | Tyre fitment centre | | ✔ |
| Tokio Marine Risk Consulting | Japan | Risk consulting firm | | ✔ |
| Toll Collect | Germany | Road charging provider | | ✔ |
| TomTom Business Solutions | Netherlands | TSP | ✔ | ✔ |
| Touring | Belgium | Automobile club | ✔ | ✔ |
| Toyota | Japan | Automotive OEM | ✔ | ✔ |
| Toys'R Us | South Africa | Games stores | | ✔ |
| Tracker | South Africa | TSP | ✔ | ✔ |
| Tracker Network (UK) | UK | TSP | | ✔ |
| Trafficmaster | UK | TSP | | ✔ |
| Transics | Belgium | TSP | | ✔ |
| Travelers Insurance | USA | General insurance | | ✔ |
| Trimble MRM | USA | TSP | ✔ | ✔ |
| uBlox | Switzerland | Chipset vendor | | ✔ |
| UGF Group | Italy | General insurance | | ✔ |
| Unipol | Italy | General insurance | | ✔ |
| Uniqa | Austria | General insurance | ✔ | ✔ |
| US Bank | USA | Bank | | ✔ |
| Valeo | France | Tier-1 supplier | | ✔ |
| Vanguard plc | UK | Mobile phone retailer | | ✔ |
| Vector Capital | USA | Private equity firm | | ✔ |
| Verisk Insurance Solutions | USA | Software developer | | ✔ |
| Vivium (P&V Group) | Belgium | General insurance | ✔ | ✔ |
| Vodafone | UK | Mobile operator | ✔ | ✔ |
| Volkswagen | Germany | Automotive OEM | | ✔ |
| Volkswagen Financial Services (UK) | UK | Financial services | | ✔ |
| Volvo Cars | Sweden | Automotive OEM | | ✔ |
| Volvo Trucks | Sweden | Automotive OEM | | ✔ |
| Wireless Car | Sweden | TSP | ✔ | |
| Wunelli | UK | TSP | ✔ | ✔ |
| Xirgo Technologies | USA | TTP | ✔ | ✔ |
| Young Marmalade | UK | Consumer insurance | ✔ | ✔ |
| Zurich | Italy | Consumer insurance | ✔ | |
| Zurich | UK | Consumer insurance | ✔ | |
| Zurich Financial Services | France | Commercial insurance | ✔ | ✔ |
| Zurich Fleet Intelligence | UK | Commercial insurance | ✔ | ✔ |