The Usage Based Insurance (UBI) industry has seen a number of events taking place this spring. Centred on London, we attended a few of them and now report on the issues that were proposed, argued or avoided!
The industry landscape is evolving rapidly, and the attendance figures at three successive events were a good indicator of the health of the UBI sector. Rapid consolidation in the UBI market was illustrated throughout the various shows. It was also interesting to see the number of venture capital firms (KKR, Tungsten, Francisco Partners) at the Insurance Telematics Europe event.
Telematics Service Providers, Masternaut, took centre stage at the SMi event, M2M Telematics: Fleet Management and Usage-based Insurance. Ahead of their UBI product launch with Wunelli, SSP was omnipresent at the POST event. The recently purchased Hughes Telematics – now Verizon Telematics – displayed their UBI solution under the co-branding of Vodafone and Towers Watson at the Telematics Update show. And, of course, Octo, openly gearing up for its upcoming sale, announced that it had relocated its sales HQ to London.
Big money is watching the insurance telematics market.
Evolution of UBI's effect on the insurance industry
The effect of drivers' self selection and personal risk assessment that UBI fosters triggered a debate on the medium-term effect of telematics on the insurance market as a whole. Two potential scenarios were suggested, and attendees disagreed on which of these routes the market would take.
The high risk cycle: Young and higher-risk drivers start with UBI. As their driving skills improve and their risk factor drops, they opt for normal insurance. But as soon as an error is made and their risk level increases, they revert to UBI. So UBI only attracts the higher risk population.
The low risk cycle: Young and higher-risk drivers start with UBI. The riskiest ones have their policies cancelled; only the low risk drivers stay with telematics. Outside the young driver segment, (self determined) low risk drivers start looking at UBI as a favourable option. As a result, general insurance is left with the higher risk driver and premiums increase for everyone, pushing the good driver even faster towards UBI.
Regulatory driver and possible barriers
Besides the Monti law in Italy and the suggestion that it could become a template for other countries in Europe, there are a number of other forthcoming regulations to keep an eye on, all related to privacy.
These include the right to be forgotten and the right not to be profiled, both being discussed at European level. Also very important for the big data industry is the forthcoming regulation on big data protection. Worryingly, as part of the proposed new regulation, the European Commission is widening the scope of data protection laws to include accountability of the business for the security of the data it holds, and a requirement that any business that stores personal data will have to disclose the details of any data security breaches.
Technical market drivers and trends
The role of the smartphone was unclear a few months ago, but offers have started to come out in the US and now in the UK. Although the data from smartphones is often considered to be inefficient or unreliable, a number of solutions were presented and the case for smartphones was clearly made.
Beyond its low cost advantage, a few of the attributes given to smartphone solutions include accessing new segments, skirting the black box fear, making customer relationships a priority and providing Value Added Services (VAS).
Wunelli's Paul Stacy even advocated the possible use of smartphones for crash detection, both during his presentation and more recently with the launch of Soteria Drive with SSP.
It was also suggested that the devices' evolution would foster convergence between the Stolen Vehicle Recovery (SVR) end and the crash end of the UBI service range. Even on-board cameras will have a place. However, the case is yet to be made and there are issues with the amount of data collected and transferred.
With the launch of New Google Map at the Google I/O event on May 15th, it was interesting to hear that road maps and their legal speed limits were of insufficient quality to be used in UBI. For example, many country roads are far too dangerous to drive at the legal limit, and Wunelli explained that they had to remap part of the UK to take dangerous speeds into account.
Data standardisation and portability is fiercely argued inside the insurance sector. Some see it as a loss of ownership and individualisation of the offer. Others, such as the aggregators, see it as an opportunity to stimulate competition and ease customers' choice. The UK's Association of British Insurers pronounced itself against it at this early stage, seeing no tangible benefits for insurers or new drivers.
A full understanding of the link between data, behaviour and risk is paramount, and opinions are diverging on where each player is in that understanding. It is also unclear how many years' data will be needed to have a bullet-proof model. We compared the trials and analysed the data requirements, and, in our view, 10,000 customers-year is needed.
Extra services to end users: As competition and technology push motor insurance beyond compulsory purchase and into the realm of service provision, insurance companies may have to look for additional benefits to make their policies stand out. A lot of fresh ideas were floating around, but strikingly few players demonstrated real VAS.
Among the more interesting ideas, we noted:
Map of black spots
The insurer would be well placed to compile and share a map of black spots for accident and car theft.
Gamification
Gamification was a buzzword throughout the event, probably due to the presence of Himex in the exhibition. Various – often basic – solutions based on Facebook and badges were suggested, but, yet again, nothing tangible was demonstrated at this stage and the investment into a 3D game engine to engage and retain drivers seemed, at the time, a little overkill.
Dongle enable services
A long list of opportunities for the insurers to create new revenue centres were suggested, including:
- Workshop alerts providing prognostics and diagnostics and offering timely reductions on repair and maintenance
- Personal trip logs were deemed very useful for pro users for reporting the difference between their personal and work trips as well as emissions
- Crash specific services, including detection, measurement, reaction and reconstitution
- Accessing the family vehicles anywhere using a smartphone to check status, location or set geofences
Overall, these events were a good refresher on the core issues the industry is facing in order to grow UBI acceptance and penetration. Some key take-aways included:
- UBI is no short-term trend that will fade away. Big money, big data and big ideas were there to prove it.
- UBI will profoundly affect the insurance market – in fact it is doing so already
- A flurry of small players is behind most of the innovation, suggesting a consolidating phase is not far off.
For a complete analysis of the offers on the market, the players involved and technologies to choose from, as well as global market assessments and predictions, download our Insurance Telematics Global Study.
The UK Association of British Insurers has initiated a number of discussion and work around the standardisation of the Insurance telematics process including a proposal for a standard set of telematics data that could be used to create portable driving profile.
The work was essentially done by Polaris and the documents here are the result of their work that can be found on http://library.polarisukltd.org/index.aspx
Telematics Based Personal Lines Motor – Key Product & Process Principles
A set of business process standards for telematics in personal lines insurance
Telematics driver profile dataset
For more information on future of data portability in the Insurance Telematics sector, have a look at the Insurance Telematics Global Study
Insurance Telematics Europe brought its usual share of over-excitement, grand statements and enlightenment amid a full-house participation of around 400.
A wide variety of Insurance players were present this time, often on research mode, prodding the solutions on the market and the opportunities available.
The conference, chaired among others by Ptolemus, provided a clear insight into the successes, hopes and unknown of the industry. Many came here with everything to learn and it was our role to set the stage.
You'll find here the opening presentation that kick started the show and we'll revert soon on the key findings of the event.
PTOLEMUS tracks the UBI / insurance telematics landscape on a regular basis. We notably published a 400-page report on the subject last June.
We are currently seeing the insurance market move from suspicion to recognition of the model.
Within a few days, the economic press has issued numerous articles on the subject, highlighting both its major potential as well as its challenges.
The Wall Street Journal associates UBI with Big Data, as insurers get hold of precious, high quantity customer data to improve their ability to evaluate risks.
The Economist, which quotes PTOLEMUS, emphasises customers' dilemma between what they may perceive as an infringement on their privacy and premium discounts.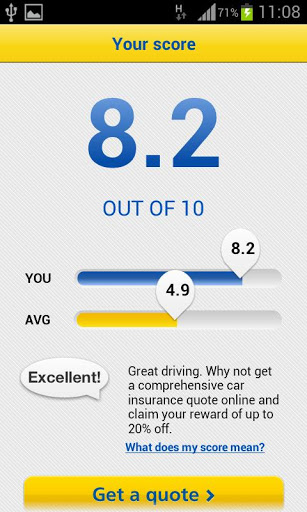 The specialised press is also very active. Transportation Nation investigates the launch of UBI in New York City by Progressive and Allstate and the potential of telematics to benefit typical urban low-mileage drivers.
Finally, Insurance Technology focuses on Aviva's launch of its smartphone application.
RateMyDrive enables young drivers to obtain a discount of up to 20% on their insurance quote based on their driving score recorded during at least 200 miles.
This is clearly an interesting move from a company that epitomized the complexity of making Pay as you Drive (PAYD) work in 2008.
Since then, the insurance telematics market has transformed itself completely.
First, the cost of technology has decreased radically. Not only have black boxes become much more affordable. But new devices have appeared. OBD (On-board Diagnostics) dongles, which can be installed by the policyholder himself, are starting to emerge in Europe too.  Smartphones, which do not cost underwriters anything, can also be used to provide valid data collection.
Secondly, automotive OEMs are starting to embed the UBI functionality in their connected car devices. We expect this to be particularly important in Europe due to the mandated launch of eCall in the EU (by 2015) and ERA Glonass in Russia (by 2014). Then, all new type-approved cars will be line-fitted with a telematic device, that can be use to provide multiple services including UBI.
This could also happen in Brazil if the government finally goes ahead with the mandated stolen vehicle recovery (CONTRAN 245) functionality for all new vehicles.
Major car makers such as Ford, Vauxhall (GM Group) and Citroën are already launching models with an UBI offer in the US and the UK and we expect this to become more prevalent in the coming months.
Third, we expect the EU telematic market to benefit from the effect of the gender ruling by the European Court of Justice. This judgment prevents insurers from setting insurance prices using the gender factor and creates the opportunity for telematics to be a substitute for safe driver detection. It is already pushing brokers such as Sheila's Wheels – focused on female drivers – to reinvent themselves through telematics and insurers such as Insure the box to target young women aggressively, notably by launching the Drivelikeagirl.com brand.
Fourth, UBI is gradually becoming a global game, as shown in the map hereafter.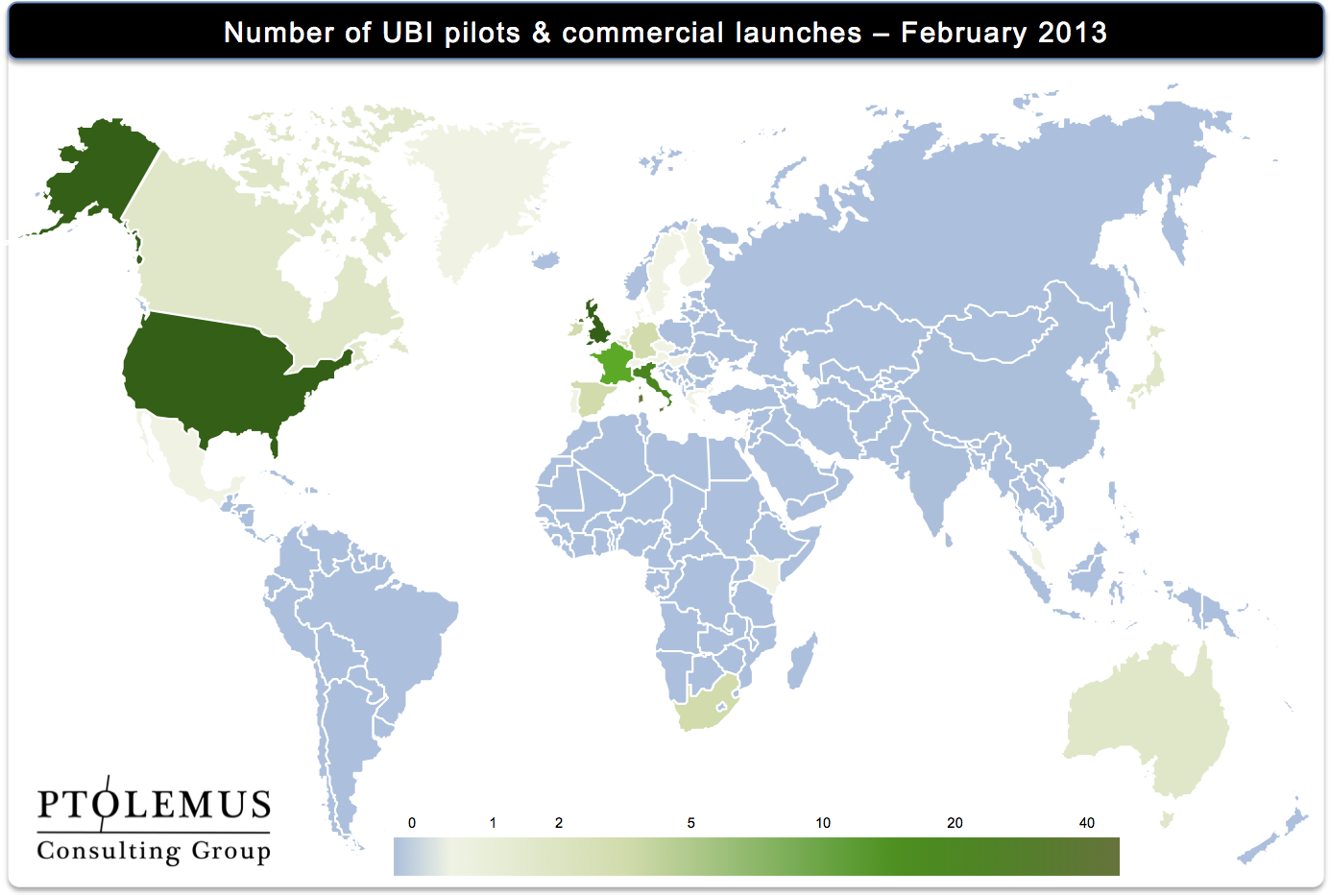 After the US and Italian markets, which have shown the way, numerous countries are starting to experiment with the technology.
The UK is the fastest growing telematics market worldwide, with both start-ups such as Insure the box and Ingenie and large insurers such as Co-operative Insurance driving the change. Despite its economic difficulties, Spain is also a very promising market, thanks to Mapfre but also Generali's recent launch of a full PHYD offer.
More generally, PTOLEMUS is seeing its report sold across the world and particularly in new markets such as Australia, Canada, China, India, Japan and South Africa. The global landscape of purchased reports (which in our view is a proxy for future UBI projects) contrasts with the landscape of launches & trials (the past & present of UBI).
Last but not least, the range of suppliers is broadening and we expect this to play a big impact in opening new markets and business models.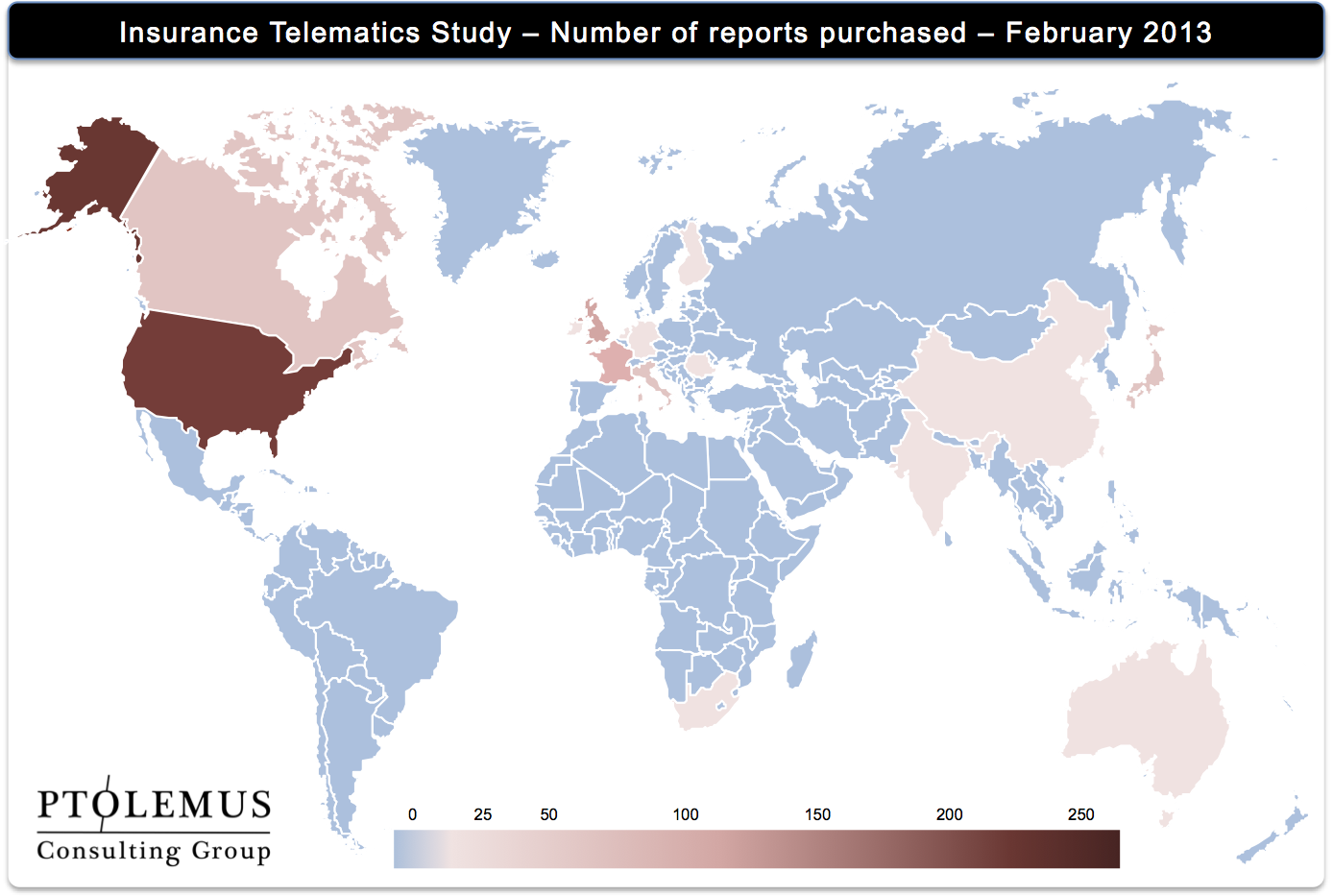 Along the pioneers (Octo Telematics, Xirgo, Danlaw or Cobra Automotive), new insurance-focused players have emerged such as Evogi in the US or Wunelli in the UK and they are gaining traction. These iTSPs (Insurance Telematics Service Providers) not only bring the technology solution but also the actuarial & data management capabilities to translate technology into business.
At last, mobile operators are starting to wake up to the opportunities offered by vertical M2M markets and notably insurance. This started in the US, with Verizon Wireless acquiring Hughes Telematics last year and Sprint developing an end-to-end proposition. European operators such as Vodafone, Telefonica or Telekom Austria have also built integrated solutions for insurers. Telefonica recently announced that it had won a deal with Generali in Spain. In addition, we understand that Vodafone is about to announce a partnership with a major European insurer.
Of course, challenges remain such as the acceptance of the model by all consumers. Overall, however, the market has translated challenges into solutions, at least in the personal line segment. For example, smartphones could become the killer model to succeed in intermediate premium markets, such as France and Germany. Even privacy seems to become a less critical hurdle. According to a recent ABI (Association of British Insurers) survey, 41% of UK drivers would "consider taking out a motor insurance policy with telematics". This offers insurers a sizeable market to tap into.
As a result, we stand by our market forecasts and expect over 100 million drivers to use telematics by 2020 globally. While the UBI market will certainly experience other ups and downs, it is just too big to stop now.
Managing Director Frédéric Bruneteau outlines the current state of the insurance telematics market in his more recent interview with M2M Apps.
M2M APPS: Could you start by outlining your consultancy activities and explain why you decided to call the company PTOLEMUS?
FREDERIC BRUNETEAU: I'll start with the name. Ptolemus's geographic work, conducted in the 3rd century, allowed maps of different continents to be assembled into the first global map. In the 21st century PTOLEMUS helps its clients assemble different M2M components to get another bigger picture: an end-to-end solution. Maybe the analogy is a bit contrived but we like it! Back to the present. We're a consultancy that's entirely focused on telematics and location-based services. I founded the company and we have offices in Brussels, Paris, Munich, Milan and Boston. We also work with telematics specialists around the world, which enables us to address global mobility issues.
M2M APPS: When and why did you decide to focus exclusively on telematics and location-based services?
FREDERIC BRUNETEAU: Three years ago we could foresee the emergence of a sweet spot. The cost of M2M hardware and wireless connectivity was falling and when it reached a critical point, we expected to see some amazing solutions coming to the market. That's happened. But we also realized that innovation could transform established industries. For example, it is currently happening in the auto insurance market, where telematics is changing the rules of the game. That is why we started to focus on this business.
M2M APPS: What was the result?
FREDERIC BRUNETEAU: We spent two years researching this market and have produced a 400-page report, for which there is a free 60-page abstract. The European market for motor insurance is the largest in the world and it's worth around €125 B, but almost €100 B is paid out in claims and for many insurers the business is only marginally profitable. Instead of putting policy prices up, which is a sledge hammer approach, the industry clearly needs to break the simplistic model on which risks are based. For example, not all young drivers are dangerous drivers. Pay As You Drive (PAYD) solutions based on telematics and individual, real-time driving behavior are the way ahead. On a global basis, there are almost 2.5 million PAYD customers, so this is clearly a market with a huge, largely untapped potential. Our research indicates that it should rise to 100 million by 2020.
M2M APPS: How does the PAYD model work?
FREDERIC BRUNETEAU: PAYD is simple but not simplistic. The more you drive the more you pay, but it can also factor the area, time of day, and adherence to speed limits. Telematics can include parameters like how hard drivers brake, how fast they accelerate, how hard they take corners and so on. That kind of data is particularly relevant for cars that are leased. Some people think that sounds like Big Brother. If so they can go on paying a high premium. But others, and they will be in the majority when the benefits are fully understood, will vote with their wallet. Our research has indicated that PAYD will attract and retain the lowest risk drivers and that they will receive discounts of up to 50% on their premiums. Moreover, establishing who is a low-risk driver can be done in a couple of months. Right now drivers have to have a clean driving sheet for many years before they get a substantial discount. High-risk drivers will continue to buy traditional, expensive policies. The former category is win:win: the latter is lose: lose. Basically PAYD is a smart, much fairer way of paying for motor insurance and a great way to promote safer driving habits.
M2M APPS: The report also indicates a change in the business relationship. Can you expand on that?
FREDERIC BRUNETEAU: Yes, the PAYD model does change the relationship between the insurance company and its clients. Right now it's limited to payments and claims, which in the case of whiplash is often contested. That issue goes away when there is a telematics solution since "g" forces are measured. But what is really interesting is the fact that insurers can use the data generated in order to influence driving behavior, for example, indicate to drivers that if they continue to drive badly then there is an increased risk of having an accident and then the premium will increase. Insurers can also take good behavior on board and use the data to offer customers a better deal. Being proactive helps establish meaningful, individual relationships and in turn that reduces churn. The percentage of Europeans who have tried to switch their provider in the last two years is very high: 25%. This figure is higher than that of ISPs (22%) and mobile telephony (19%). The figure for home insurance is much lower: 15%. The boxer Mike Tyson once said that: "Everybody has a plan until they get punched in the face." That is what the market is doing to the industry.
M2M APPS: The benefits of PAYD would seem to be self-evident. Why then has the take up been so slow and low?
FREDERIC BRUNETEAU: Insurance is a conservative industry and the motor risk-rating model was established decades ago, so there is a natural reluctance to change but change they must. It's coming to the industry, albeit slowly; legislation would help, but that takes time. The biggest impact looks set to come from the equivalent of Internet startups that smash the mold: the online insurance equivalent to Amazon. In the UK, innovative business models are on offer from Wunelli and Insurethebox. The latter has partnered with various high street brand names, the former with established insurance companies like Allianz. A nice Internet type feature of PAYD is the ability to employ a Web portal or personal dashboard as it's also called. This allows drivers to keep track of their mileage, see how they can earn additional miles that are added to the original driving allowance, and also increase their mileage quota on line.
M2M APPS: Your report shows a wide difference in geographic take up, with the UK, Italy and France in the lead and the other European countries trailing. Can you explain?
FREDERIC BRUNETEAU: We can talk about the European insurance market but of course it is made up from different countries that have different legislation and traditions. That's particularly clear right now, but the fast increasing PAYD take-up in the UK, for example, reflects the exorbitant premiums charged for young drivers, particularly male drivers. Italy has well known fraud and theft issues, but it also a large number of low-mileage, second-hand cars. In our view, all countries will adopt the new model but it will take more time in the low premium and low churn markets.
M2M APPS: Would it be correct to say that we've reached an inflection point?
FREDERIC BRUNETEAU: We have but it varies by country. It's true for Italy, the UK and the US. That said, it took 15 years to reach today's figure of 2,5 million users. There was an expectation peak in 2006 and three years later we were in the trough of disillusion but so was the economy. Now we're heading up the enlightenment part of the graph. One significant development was Moody's recommendation of usage-based insurance, the financial implication being that companies that didn't offer PAYD would end up with the bad drivers and would lose money as a result.
M2M APPS: Last question. What changes do you foresee in the next 12 months?
FREDERIC BRUNETEAU: I expect to see more market-centric offers from insurers. In the US there will be more professionally installed back box solutions, dongles being the dominant technology at the moment. In Europe the reverse will happen: there will be more on-board dongles being attached to the vehicle's diagnostic port. In addition, the more innovative insurers will be trialling and then launching solutions based on smartphones.
This interview was originally published on M2M Apps.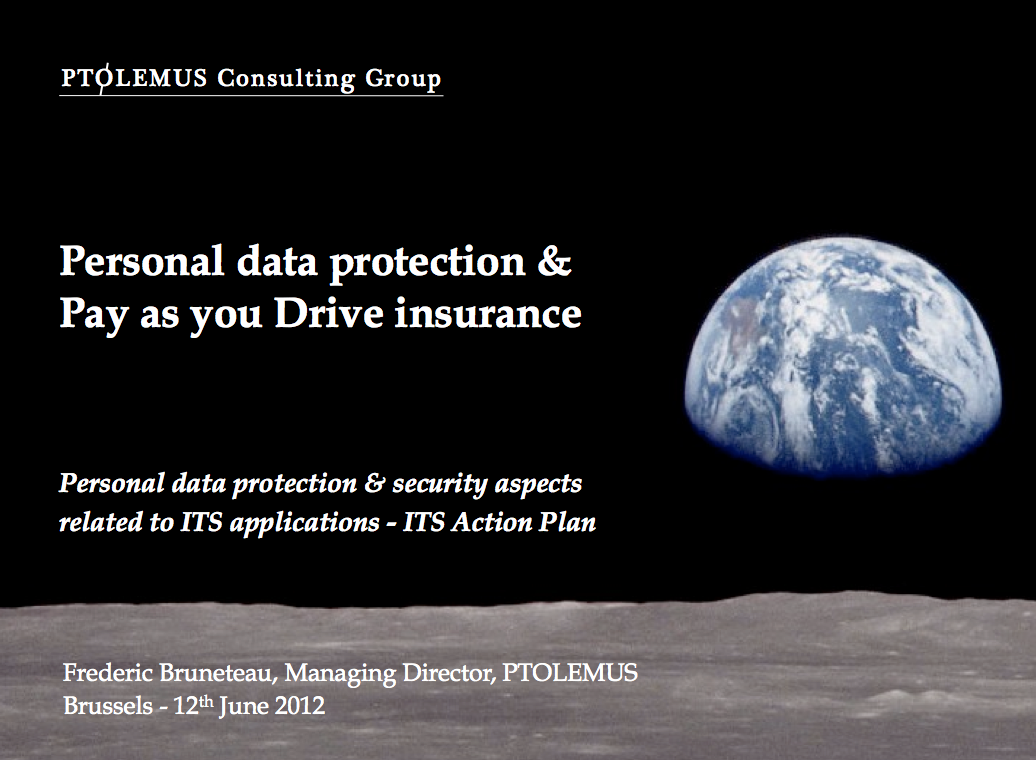 Personal data protection issues are one of the major challenges that Pay as you Drive  (PAYD) insurance has to overcome before it can go mainstream.

This means everyone – insurers, suppliers, carmakers and regulators – needs to start asking – and answering – a number of hard questions.
We submitted our current view of the challenges at the European Commission's workshop on "Personal data protection and security aspects related to ITS applications". 
Please fill out the form below to download the 17-page presentation. The Insurance Telematics Study devotes 40 pages to the subject of privacy and personal data management.
We are interested to receive feedback from stakeholders at insurance@ptolemus.com

In our Insurance Telematics Study, PTOLEMUS predicted that European insurers would start diversifying their go-to-market strategy.
Notably by using cheap On-Board Diagnostics (OBD) devices that can be installed by policyholders themselves.
This prediction is happening, as confirmed by France's AMAGUIZ launch of a new Pay as you Drive (PAYD) offer based on an OBD dongle. The device is provided by Scope Technologies, one of the companies ranked in our Global Ranking of Insurance Telematics Suppliers.
Beyond the lower cost for the insurer, the rationale also lies in an easier customer experience. That does not require a professional installation.
While we do not expect OBD dongles to be a substitute to professionally installed OBUs (On-Board Units), we believe that OBD dongles will enable insurers to reach new customer targets – That have lower premiums today.
This will largely contribute to make Pay as you Drive (PAYD) insurance a mainstream market for insurers. We predict that telematic insurance will represent over 100 million policies globally by 2020.
You can download a free 60-page abstract of the report here.
To purchase the report, send an e-mail to  insurance@ptolemus.com

John Craig, Associate Partner, PTOLEMUS Consulting Group
As Automotive OEM's introduce increasingly sophisticated infotainment systems and smartphone integrations – isn't this just making our roads more dangerous?
Introduction
This is a difficult subject for technologists from the mobile or automotive industries, who are fond of their gadgets and evangelize their use. While technology can ultimately be used to reduce distracted driving when applied in this direction, it is also a significant general contributor to distracted driving. The balance today is probably well into the red, and some recent moves by OEM's to introduce more connected services to the car appear debatable when viewed from a safety perspective.
Historically
In the beginning we had the 'car phone' where the use case was clearly inside the vehicle, then we had the 'pocket phone' as technology developments enabled smaller devices. And we brought the pocket phones back into the car and started talking. The more safety conscious in those days had 'hands-free' equipment, but this gave a false sense of security, implying things would be fine if we only used such equipment.
Personally
That things were not fine became clear to me driving home from work in Stockholm in the late-1990's, trying out my new 'hands-free' kit. Sure it meant I could have a good discussion on the 20-minute drive. But on arriving home I had no idea whatsoever, what had happened on that journey. It was a blank. Usually I remember which models of cars I pass, the road and weather conditions, my speed and fuel levels, and so on. But with my mind focused on the phone call, all of this was fuzzy, and I was clearly distracted. Despite having my eyes directed onto the road ahead, my brain was also handling a phone call, listening, understanding, thinking, questioning, talking, and more. Perhaps this was specific to me, and a multi-tasking woman or more intelligent man could manage all of this better. Perhaps.
Infotainment
Fast forwarding to current times and we are seeing increasingly sophisticated built-in infotainment systems, and a variety of solutions aimed at integrating the smartphone with the car. But whether it's a phone solution on some form of cradle, or an OEM-supplied system built into the centre console, using such equipment while driving brings clear and inherent risks. Manipulating relatively small buttons on touchscreens while driving is not easy and requires your concentration to wander from the road. And diverting a forward gaze sideways and perhaps even down into the centre console to do anything with the built-in unit, is again taking your eyes away from where they need to be.
Going too far
Some recent car launches have now highlighted the ability to use Twitter and Facebook in the car, while other some OEM's are marketing the ability to support e-mail and text messages. This is a step too far and the question needs to be asked as to why a car – a driving vehicle – really has to support such features. Who wants to meet a texter or tweeter while driving on the same roads as them? These systems demand driver distraction just to be used. And some companies appear to believe that Voice Recognition such as Siri is the new equivalent of the 'hands-free' kit, making everything fine. This proliferation of inappropriate connected services in vehicles is verging towards madness.
The car industry knows best?
As promoters of such technologies in cars, is it right to encourage their use in the first place? Is it an inevitable evolution of their use elsewhere, and human nature is such that they will simply want to do it everywhere? The car industry may with some justification argue that it is the best placed to understand this safety dimension and should therefore have the ultimate control of all electronics in the car. After all, it gets the blame if things go wrong, irrespective of which equipment was at fault. They stress their commitment to safety and that this understanding and commitment, is what separates them from the wild west of consumer devices. However we still see the integration of feature-laden infotainment systems in awkward positions with fidgety controls, and an industry proudly announcing support for Twitter, Facebook, Text and e-mail. In a car.
Human nature
Human behavior is what it is, and that is perhaps at the core of the debate. Humans do stupid things and this cannot be eliminated. There's no reason for stupidity to cease when a car is entered. So do we accept this and try to reduce the risk? Or is any company willing to stand up and discourage the use of consumer electronics in cars, until they are mature enough to offer a positive overall contribution to safety. This may reduce sales as a consequence, because people want their gadgets wherever they are, and technology support is becoming a key factor in purchasing.
Balance
OEMs deserve some sympathy as they try to tread a fine line and achieve a balance between safety and advanced consumer features. Some of the technologies now being worked on will clearly form a base for future Advanced Driver Assistance Systems, and for example enable the wisdom of the crowd to be used to improve safety. But the industry needs a credible position today, and throwing an increasing number of features that belong on computers or phones into the car dashboard, thus making cars more dangerous, is not the answer. Neither is combining smartphone intelligence with automotive infotainment hardware via the many solutions coming to the market now.
Solutions
So what are the solutions? Are there features and technologies that offer an unquestionably positive overall contribution to safety? A case can probably be argued for examples such as Head-Up Displays that keep attention in the right direction, Augmented Reality systems where at least a view of the real world is retained, Application disablement while in motion, and several more. But it is important that all of these technologies reach a level of maturity and are intelligently integrated, such that their overall contribution is positive. Gesture-based controls seems to be popular these days, prompting visions of drivers on the roads careering around with hands moving furiously, occasionally on the steering wheel, as they try to get their vehicles to understand their gestures. Perhaps such technologies could be tested and beaten into shape outside the vehicle environment, and then integrated.
Conclusion
The intention is not to imply that all consumer technologies are inherently dangerous. Several will definitely make driving safer and are being rigorously developed with this in mind. But in the rush to bring phone and consumer features into the car we need to ensure that we're not reducing overall safety on the basis that it's OK, because 'it's what consumers want'. Some consumers may also want to have a few beers and drive, or tear around town at 160 km/h, or go through red lights if they judge it suitable. We naturally take a dim view of such activities, and as an industry should apply similar attitudes to introducing inappropriate consumer technologies and features into vehicles.
Frederic Bruneteau, Managing Director, PTOLEMUS Consulting Group
What does your company do?
We are the first strategy consulting firm solely focused on telematics. We help our clients define their strategy but also launch new products and services.
What is your role and experience in the Insurance telematics market?
We help all players, from insurers to telematics service providers, create their value proposition and business model around insurance telematics.
As an example, we have performed the due diligence review of Octo Telematics for its new owners. We have also conducted a review of the European PAYD/PHYD market for Qualcomm Enterprise Services.
What partnerships are you currently forging in the Insurance space in Europe? Also, what industry milestone did you recently achieve or are working towards achieving?
We partner with specialist actuarial consultancies to help insurers make sense of their data.
We are also about to publish the most comprehensive report ever written on Insurance Telematics.
What are the main challenges and opportunities to the take-off of insurance telematics?
The main challenge is the fact that motor insurers have not fundamentally changed the way they assess and price risks for over 50 years. This is a strong statement but it is shared by numerous insurers.
In our view, telematics is the elephant in the room and it is increasingly impossible to ignore it! This explains the current race towards launching telematics offerings in Italy and now in the US and the UK.
We believe that the turning point has been reached. In December, Moody's recommended insurers to launch Usage-Based Insurance schemes. Their rationale is very simple. Those insurers that do not adopt telematics will end up gaining all the riskiest customers (that want to to avoid telematics at all cost)!
In general, credit rating agencies make a forecast or a recommendation when it is sure ! Which explains why they are often late.
Therefore there is no doubt for me that telematics will become mainstream, although at different speeds in different countries.
What will drive the European market in the next 2-3 years?
First, the Test Achats / gender ruling is becoming applicable at the end of this year. It will have a substantial impact. If the principle of non-discrimination on a statistical basis is extended to age or post-code (as a result of a similar case), this would dramatically accelerate the telematics evolution.
Secondly, we expect the European Commission to pass the implementation measures mandating eCall this year. This will create a formidable incentive for automotive OEMs to seriously consider insurance. In our view, insurance is probably the "killer app" of the connected car. The entry of carmakers will surely revolutionise the motor insurance business.
Other very interesting, less predictable evolutions include
The impact of the Italian law just passed on motor insurance, which forbids the charging of telematics boxes to consumers,
The impact of the expected law on motor insurance in the UK,
The possible introduction of smartphone-based telematics policies (probably first by Progressive)
The development of online insurance that is a strong catalyst of telematics models.
Which European countries will come to insurance telematics first?
PTOLEMUS has built an Insurance Telematics Readiness Index, based on 7 factors. Although the take-off eventually depends on the initiatives of market players, our Index determines the market's appetite for telematics (and the likely success of telematics insurers).
In our ranking, the top 5 is
Italy
The UK
Belgium
Austria
France
You are an integral part of our upcoming event. Could you tell us what key topics or issues you are looking at discussing with the industry at the Insurance Telematics Europe 2012 event?
I think most insurers will be interested to understand what is the business case that can enable to launch telematics. We have built both market forecasts and insurer business models for the 4 key European markets (Italy, Germany, France and the UK). We have found that there is a business case in each of these markets. Of course, not all segments will be addressable first but you do not need to launch an offer to all segments from the beginning.
The other revolution in our view relates to data & risk management. How can underwriters leverage the raw data generated by black boxes to better rate their customers? How can they also adopt a pro-active approach to risk management, i.e. help their customers reduce their risk exposure?
In our global Insurance Telematics study, we have investigated all the ways that can be used to leverage the data and reduce risks.
A free 60-page abstract of the report can be obtained here.
Telematics for Fleet Management Europe 2012.
Frederic Bruneteau, Managing Director at PTOLEMUS Consulting will be guest speaker at the conference on the 26th-27th March 2012, The Mövenpick Hotel, Amsterdam, The Netherlands
What is your role in the fleet telematics market?
PTOLEMUS advises all players, from TSPs to major telematics customers, in their strategy, their innovation management or their business development.
Contrarily to most strategy consultancies, all our consultants have management experience & expertise in this industry. This makes them credible and operational from day one.
We are also often called upon by VCs and private equity funds who wish us to evaluate their target, generally in the context of a commercial due diligence process.
What major advances do you think the telematics industry has made in 2011 relevant to fleets?
Obviously, the European Commission has announced that it will take regulatory measures to make eCall mandatory for all passenger cars (whether company owned or not) and LCVs (Light Commercial Vehicles) by 2015.
This will have a big impact on the uptake of telematics in fleets, as all new LCVs will then be shipped with a black box and a SIM card. This is also likely to increase of OEMs, who will have a big incentive to bundle eCall with many connected services, from traffic information to remote maintenance.
In addition, a major change is the fact that the industry has clearly shown a path towards consolidation. Vector acquiring TrafficMaster; Trimble acquiring Punch Telematix; Francisco Partners acquiring Masternaut (through Cybit)… Scale is increasingly becoming a major factor.
Finally, TomTom Business Solutions' impressive success shows that the old one-to-one selling approach that the fleet has used may be old-fashioned. TomTom's indirect channel strategy has worked very effectively. It is also coherent with its low cost, high volume product strategy.
What challenges do you think the industry still faces?
Increasingly, the industry will have to move towards an open ecosystem, i.e. a system comparable to the App Store in the mobile world. From an economic point of vie, it is becoming increasingly complex for TSPs to develop all new products on their own.
A more des-integrated approach, based on open architectures, comprehensive development toolkits and development communities, is required.
Only this move will enable the dramatic cost reduction that many accounts expect to jump to telematics.
What is the key to successful deployment of telematics technology in commercial vehicles in your opinion?
A few prerequisites in our view include:
A detailed understanding of the fleet's operational needs, translated into technical requirements,
A cost-benefit analysis of the telematics solution and a technical comparison of the different available systems. This will avoid duplicate investment.
A communications policy towards all drivers that emphasises the positive aspects of telematics, for example the fact that delivery staff will arrive earlier at home in the evening
An integration with back-office IT systems and management processes.
What key topics or issues you are looking at discussing with the industry at the show and why are they important for moving the industry forward?
The integration of traditional fleet applications with now expected B2C services such as navigation, traffic information, speed cameras, local search, etc.
The integration with back-office IT systems, notably ERP systems
The opening of closed OEM-controlled operating systems and data (notably FMS-related) to outside developers. This was promised by several OEMs in 2011, notably Volvo and Daimler. I will look for evidences this year!
What developments/trends do you see impacting the industry over the next 2-5 years?
eCall surely (see earlier)
The commoditisation of simple track & trace, which may even become free
Combined strong price decreases / volume growth
The des-integration of the value chain towards open telematics.