Yaron Steinfeld
Business Analyst, Paris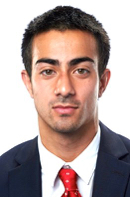 Yaron collaborates closely with the consultant team at PTOLEMUS on the subjects of Usage-based Insurance, Roadside Assistance, as well as other connected mobility markets such as Car Pooling. Yaron is also developing his specialisation into the Autonomous Vehicle market.
Yaron brings a unique perspective to PTOLEMUS through his interest and experience related to Smart Cities. His focus is on analysing how technology merges with transportation to create solutions for better functioning, more liveable urban environments.
Before PTOLEMUS, Yaron gained experience in business strategy, working with industry leaders in the construction and building industries. At LafargeHolcim, Yaron assisted top-level managers with strategic decisions related to new business in developing markets in Sub-Saharan Africa and South Asia. At Cleia, a French engineering company, Yaron advised executives on business model innovation and entry strategy for their new venture in India. He developed skills in business modelling, strategy, and stakeholder analysis.
Yaron graduated with a business degree from the University of Southern California (USC) and holds a Masters degree in Sustainable Development from HEC School of Management, Paris. Yaron is a native English speaker and is proficient in French.
Yaron can be contacted on ysteinfeld@ptolemus.com