Matthew Cobbold
Business Analyst, London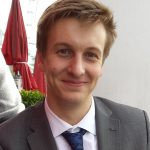 Matthew has gained 1 year of strategy and research experience for companies such Strategy& (PWC group), Ernst & Young and WS Atkins.
He holds a strong experience in computational modelling and mathematical analysis.
Matthew has performed several research and market modelling projects for construction, pharmaceutical and telecommunication industries.
He recently participated to the commercial due diligence of a cyber security solution provider. Matthew conducted researches and interviewed experts to size the hardware security modules market.
Matthew has been also co-writing our research report covering Autonomous Vehicles analysing their impacts on insurance claims and premiums. He has notably built a model on impact of different levels of ADAS on insurance premiums and UBI driver scores.
Finally, he has written a thesis on computational fluid dynamics modelling of tsunamis.
Matthew can be contacted on mcobbold@ptolemus.com